Que diriez-vous d'une bonne nouvelle ? La plateforme qui annule des séries plus vite que son ombre, Netflix, vient de renouveler The Umbrella Academy pour une saison 3 ! Le retour de l'intégralité du casting – Ellen Page, Tom Hopper, David Castaneda, Emmy Raver-Lampman, Robert Sheehan, Aidan Gallagher, Justin H. Min, Ritu Arya et Colm Feore – est déjà annoncé, avec un début de tournage prévu en février à Toronto. Si on fait les comptes, on peut tabler sur six mois de mise en boîte pour ces dix épisodes et à peine plus pour la post-production… ce qui veut dire que la famille Hargreeves sera de retour sur les écrans début 2022 ! On notera d'ailleurs que cette nouvelle saison n'est pas qualifiée de dernière saison, alors… heureux ?
À la mort de leur père, des frères et sœurs aux pouvoirs extraordinaires découvrent des secrets de famille traumatisants et une menace terrible qui plane sur l'humanité.
They're not done yet!

The Umbrella Academy Season 3 is officially happening! pic.twitter.com/Vg7jXrXwnV

— Netflix (@netflix) November 10, 2020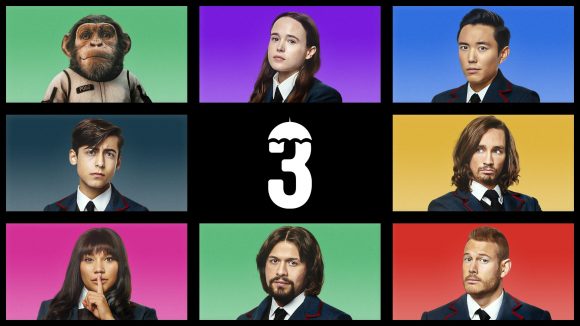 La série The Umbrella Academy revient en 2022 (?) sur Netflix, avec Ellen Page (Vanya Hargreeves/Numéro Sept), Tom Hopper (Luther Hargreeves/Numéro Un), David Castañeda (Diego Hargreeves/Numéro Deux), Emmy Raver-Lampman (Allison Hargreeves/Numéro Trois), Robert Sheehan (Klaus Hargreeves/Numéro Quatre), Aidan Gallagher (Numéro Cinq) et Justin H. Min (Ben Hargreeves/Numéro Six).