« OUI JE VAIS FAIRE SPIDER-VERSE 2 ET ÇA VA ÊTRE INCROYABLE » – Daniel Pemberton
Que ce soit en live action ou en animation, les compositeurs restent fidèles au Tisseur… Après le retour de Michael Giacchino sur Spider-Man 3, nous allons donc assister à celui de Daniel Pemberton (Birds of Prey, Steve Jobs) sur Spider-Man : New Generation 2. Quand cohérence musicale d'un épisode à l'autre rime avec talent, on ne peut qu'apprécier ! PS : comme il s'agit du premier article Spider-Man : New Generation 2 depuis le début du tournage de Hawkeye, on rappellera – pour ceux qui n'ont pas fait le lien – que Hailee Steinfeld est désormais Gwen Stacy et Kate Bishop !
I can't believe I make a joke about a patio heater and it turns into this…

Ha ha… OK FUCK IT. YES I'M GONNA DO SPIDER-VERSE 2 AND IT'S GONNA BE AMAZING.

GET READY FOR 2022…

— Daniel Pemberton (@DANIELPEMBERTON) December 14, 2020
﹡﹡﹡﹡﹡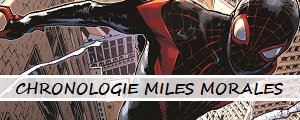 ﹡﹡﹡﹡﹡
Spider-Man : New Generation 2 est réalisé par Joaquim Dos Santos et sort aux Etats-Unis le 8 avril 2022, avec Shameik Moore (Miles Morales/Ultimate Spider-Man) et Hailee Steinfeld (Gwen Stacy/Spider-Gwen).