Vous en rêviez, ils l'ont fait… un épisode entier centré sur Cecile ! Blague à part, dégainer un super-vilain psychique aux yeux qui brillent quelques semaines après Psych, ce n'est pas très malin. En revanche, timing impeccable concernant la scène où Barry et Iris prennent du bon temps (cf. la pseudo-polémique sur la sexualité de Batman) ! L'une des rares choses à sauver de cet épisode restera donc le retour de Sue Dearbon, rappel vivant que la production de The Flash n'a toujours pas 'osé' donner un nouveau visage à Ralph Dibny. Enfin, petite émotion en revoyant la chaise du Thinker. C'était le temps où la série tenait la route, avec un solide antagoniste…
The Flash – Saison 7- Episode 13 – 'Masquerade' : Cecile est obligée de se confronter à son passé pour s'échapper d'une prison psychique. Pendant ce temps, Chester remplace Cisco mais commet une erreur qui met Barry en grave danger. Joe enquête sur les anciens liens militaires de Kristen Kramer et découvre une vérité troublante.
————————————————–
Audience US (chiffres définitifs) : Le changement d'arc scénaristique fait décidément du bien à la série… Hier soir, l'épisode 'Masquerade' a été suivi par 0.76 million de téléspectateurs (contre 0.74 million la semaine dernière). C'est la meilleure audience depuis six épisodes. Sur la cible des 18-49 ans, le show conserve même un taux de 0.2% (inchangé).
————————————————–
The Flash – Saison 7- Episode 14 – 'Rayo de Luz' : Quand Ultraviolet revient à Central City, Allegra est déterminée à retrouver sa cousine et à changer son cœur. Pendant ce temps, Joe trouve des preuves indiquant que Kristen Kramer pourrait ne pas être la policière intègre qu'elle prétend être.
﹡﹡﹡﹡﹡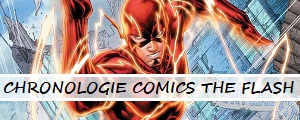 ﹡﹡﹡﹡﹡
La série The Flash est diffusée chaque mardi sur la chaîne The CW, avec Grant Gustin (Barry Allen/The Flash), Candice Patton (Iris West-Allen), Carlos Valdes (Cisco Ramon/Vibe), Danielle Panabaker (Caitlin Snow/Killer Frost), Jesse L. Martin (Joe West), Danielle Nicolet (Cecile Horton), Tom Cavanagh (Nash Wells), Kayla Compton (Allegra Garcia) et Brandon McKnight (Chester P. Runk).