En attendant Godspeed et Impulse, The Flash poursuit l'étude de ses personnages secondaires. Après Cecile Horton, c'est donc au tour d'Allegra Garcia de se retrouver en pleine lumière, sous la direction de Danielle Panabaker (Caitlin Snow), qui signe ainsi son troisième épisode. Un épisode où… tout le monde a perdu le sens commun, à l'exception de Black Widow, Sue Dearbon. Faire entendre raison à Ultraviolet ? C'est ce qu'aurait fait Barry, nous répète à l'envie Allegra… et c'est bien le problème de cette saison qui veut 'sauver' tout le monde, en mettant sur le même plan une tueuse en série et une voleuse. Ridicule. Seule la transformation d'Allegra en Captain Marvel était plutôt stylée !
The Flash – Saison 7- Episode 14 – 'Rayo de Luz' : Quand Ultraviolet revient à Central City, Allegra est déterminée à retrouver sa cousine et à changer son cœur. Pendant ce temps, Joe trouve des preuves indiquant que Kristen Kramer pourrait ne pas être la policière intègre qu'elle prétend être.
————————————————–
Audience US (chiffres définitifs) : Comme quoi, même en l'absence du couple vedette… Hier soir, l'épisode 'Rayo de Luz' a été suivi par 0.79 million de téléspectateurs (contre 0.76 million la semaine dernière). C'est la meilleure audience depuis sept épisodes. Sur la cible des 18-49 ans, le show garde la forme avec un taux de 0.2% (inchangé).
————————————————–
The Flash – Saison 7- Episode 15 – 'Enemy at the Gates' : Lorsqu'une armée de Godspeeds attaque Central City, Barry et Iris doivent suspendre leurs projets familiaux et se concentrer sur la dernière menace qui pèse sur leur foyer. Pendant ce temps, Chillblaine est libéré de prison et prétend avoir changé, mais Frost a des doutes.
﹡﹡﹡﹡﹡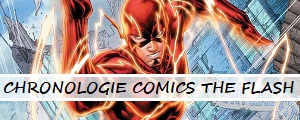 ﹡﹡﹡﹡﹡
La série The Flash est diffusée chaque mardi sur la chaîne The CW, avec Grant Gustin (Barry Allen/The Flash), Candice Patton (Iris West-Allen), Carlos Valdes (Cisco Ramon/Vibe), Danielle Panabaker (Caitlin Snow/Killer Frost), Jesse L. Martin (Joe West), Danielle Nicolet (Cecile Horton), Tom Cavanagh (Nash Wells), Kayla Compton (Allegra Garcia) et Brandon McKnight (Chester P. Runk).