HBO Max arrive en Europe ! Le 26 octobre, la plateforme de streaming débarquera en Andorre, au Danemark, en Finlande, en Norvège, en Espagne et en Suède. (Rien de prévu concernant la France pour l'instant.) Pour fêter la chose, une présentation virtuelle a été mise en ligne ce matin, avec de nombreuses vidéos inédites. Bien évidemment, c'est le teaser de la préquelle de Game of Thrones – House of the Dragon – qui fait le buzz… mais dans l'ombre, n'oublions pas le premier extrait de Peacemaker, la première série issue de l'Univers Cinématographique DC Comics !
[Synopsis reconstitué] John Cena est Christopher Smith, alias Peacemaker, un 'Captain America un peu con', membre de la Task Force X, qui croit à la paix à tout prix, peu importe le nombre de personnes qu'il doit tuer pour l'obtenir…
﹡﹡﹡﹡﹡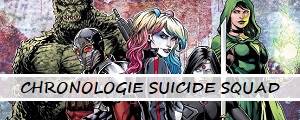 ﹡﹡﹡﹡﹡
La série Peacemaker sera diffusée en janvier 2022 sur HBO Max, avec John Cena (Christopher Smith/Peacemaker), Steve Agee (John Economos), Robert Patrick (Auggie Smith), Jennifer Holland (Emilia Harcourt), Chris Conrad (Adrian Chase/Vigilante), Lochlyn Munro (Inspecteur Larry Fitzgibbon), Chukwudi Iwuji (Clemson Murn), Annie Chang (Inspectrice Sophie Song) et Christopher Heyerdahl (Capitaine Locke).