Ouf, DC Comics a encore quelques surprises en stock après la DC FanDome ! La chaîne The CW vient de dévoiler la bande annonce de la saison 8 de The Flash… qui est tout simplement celle d'Armageddon, le crossover en cinq épisodes qui ouvrira la saison. D'un côté, c'est toujours aussi cool de voir Barry Allen interagir avec d'autres super-héros (le Hall de Justice est de retour et Ray Palmer se prend pour Clark Kent !). Mais de l'autre, qu'est-ce c'est mou… On a déjà entendu mille fois « Tous ceux que j'aime vont mourir ! » et Despero est – pour l'instant – désespérément quelconque.
Une puissante menace extraterrestre arrive sur Terre dans des circonstances mystérieuses et Barry, Iris et le reste de la Team Flash sont poussés dans leurs limites au cours d'une bataille désespérée pour sauver le monde. Comme le temps est compté et que le sort de l'humanité est en jeu, The Flash et ses compagnons devront également faire appel à de vieux amis pour que les forces du bien l'emportent.
﹡﹡﹡﹡﹡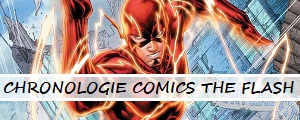 ﹡﹡﹡﹡﹡
La série The Flash revient le 16 novembre 2021 sur la chaîne The CW, avec Grant Gustin (Barry Allen/The Flash), Candice Patton (Iris West-Allen), Carlos Valdes (Cisco Ramon/Vibe), Danielle Panabaker (Caitlin Snow/Killer Frost), Jesse L. Martin (Joe West), Danielle Nicolet (Cecile Horton), Tom Cavanagh (Nash Wells), Kayla Compton (Allegra Garcia) et Brandon McKnight (Chester P. Runk).