Grâce à Doom Patrol, nous pouvons enfin rayer 'J'ai vu un gorille préparer un milkshake et chanter Les Champs-Élysées' de notre liste des choses à expérimenter au moins une fois dans sa vie ! L'épisode 'Evil Patrol' aurait pu s'appeler 'Inversion Patrol' tant la série nous propose un fascinant jeu de miroirs, les super-héros d'hier devenant les humains d'aujourd'hui, et vice versa. Bien évidemment, on peut se demander si ce statu quo va durer ; sachant que paradoxalement, il aura fallu que tout le monde perde ce qui faisait de lui un super pour assister au combat le plus super-héroïque de la saison ! Concernant l'intrigue, l'impression d'être devant un puzzle auquel il manque des pièces est un peu trop présente, surtout à un épisode de la fin de la saison. A ce propos, j'imagine que chacun a essayé au moins une fois de visualiser le cheminement de la machine à voyager dans le temps (rappel : la Brotherhood of Evil l'a construite par rétroingénierie, nous sommes donc en pleine boucle temporelle). Et se demande à quoi va ressembler la larve de Larry une fois éclose. Enfin, vous savez ce qui manque dans le paysage super-héroïque actuel ? Un film/une série sur une maison de retraite pour super-héros.
Doom Patrol – Saison 3 – Episode 9 – 'Evil Patrol' : Avec Madame Rouge en lice pour récupérer sa place au sein de la Brotherhood of Evil, la Doom Patrol se prépare à leur imminente visite.
————————————————–
Doom Patrol – Saison 3 – Episode 10 – 'Amends Patrol' : Alors que la Brotherhood of Evil se rapproche, la Doom Patrol essaye de mettre de côté les problèmes passés dans l'espoir de devenir une véritable équipe de super-héros – ou risque d'être éliminée pour de bon.
﹡﹡﹡﹡﹡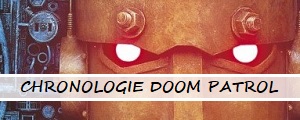 ﹡﹡﹡﹡﹡
La série Doom Patrol est diffusée chaque jeudi sur la plateforme HBO, avec Timothy Dalton (Dr Niles Caulder/The Chief), Brendan Fraser (Cliff Steele/Robotman), Matt Bomer (Larry Trainor/Negative Man), April Bowlby (Rita Farr/Elasti-Woman), Diane Guerrero (Crazy Jane) et Joivan Wade (Victor Stone/Cyborg).