Petit épisode de transition pour digérer les événements de la semaine dernière… C'est d'ailleurs le premier qui n'est pas réalisé par James Gunn, puisqu'il a laissé sa place à Jody Hill (Vice Principals, Kenny Powers). Avec ce 'The Choad Less Travelled', nous en apprenons donc plus sur l'enfance complètement détraquée de Peacemaker dans des flashbacks on ne peut plus crus. Qu'est-il arrivé exactement à son frère ? L'information qui sert à rien : la 'voix' d'Eagly est celle de Dee Bradley Baker, alias Sebastian dans The Suicide Squad et tous les clones dans Star Wars : The Clone Wars/The Bad Batch ! L'autre information qui sert à rien : il y a bel et bien un super-héros qui s'appelle Matter-Eater Lad, capable de tout manger sur son passage. Alors, qu'avez-vous pensé de cet épisode un poil moins hystérique que la moyenne ? Verrons-nous un jour l'excellent Robert Patrick dans le costume de White Dragon ? Et plus important encore, y a-t-il une étiquette sur les casques de Peacemaker, afin de différencier leurs pouvoirs (et d'éviter de porter celui qui a la gale) ?
Peacemaker – Saison 1 – Episode 4 – 'The Choad Less Travelled' : Suite à une mission quelque peu réussie, Murn recrute Vigilante. Pendant ce temps, après avoir appris que l'équipe a aidé son père à se retrouver en prison, Peacemaker fait face à son passé compliqué.
————————————————–
Peacemaker – Saison 1 – Episode 5 – 'Monkey Dory' : L'équipe enquête sur la plaque tournante apparente de l'approvisionnement alimentaire des extraterrestres, pour se retrouver finalement face à une invasion à part entière. Pendant ce temps, la tentative d'Auggie de vendre son fils à la police est compliquée par le mystérieux contact de Murn.
﹡﹡﹡﹡﹡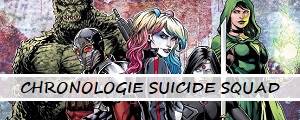 ﹡﹡﹡﹡﹡
La série Peacemaker est diffusée chaque jeudi sur HBO Max, avec John Cena (Christopher Smith/Peacemaker), Steve Agee (John Economos), Robert Patrick (Auggie Smith), Jennifer Holland (Emilia Harcourt), Freddie Stroma (Adrian Chase/Vigilante), Lochlyn Munro (Inspecteur Larry Fitzgibbon), Chukwudi Iwuji (Clemson Murn), Annie Chang (Inspectrice Sophie Song) et Christopher Heyerdahl (Capitaine Locke).