Plus de doute, Serguei Kravinov a décidé d'inscrire la continuité de l'Univers Cinématographique Marvel à son tableau de chasse ! Après Aaron Taylor-Johnson, c'est au tour de Russell Crowe de rejoindre le casting de Kraven the Hunter dans un rôle-mystère, sans doute un membre de la famille du super-vilain (Nikolai Kravinoff, le père de Serguei ?). Crowe est bien sûr connu dans ces colonnes pour avoir incarné Jor-El dans Man of Steel… et il jouera bientôt Zeus, le père des dieux grecs, dans Thor : Love and Thunder. L'Univers Spider-Man de Sony vient donc de s'offrir coup sur coup Quicksilver et Zeus. Pas de quoi mettre en péril la structure du multivers, mais tout de même… Cela donne un peu l'impression que l'on tourne en rond, la liste des acteurs hollywoodiens pouvant incarner des super-personnages étant déjà épuisée !
[Synopsis extrait des comics] Kraven a traqué tous les animaux de la création. Pourtant, une proie lui échappe encore : Spider-Man ! Bien décidé à prouver qu'il est le maître, le Chasseur endosse le costume du héros et usurpe son identité après l'avoir envoyé six pieds sous terre.
Russell Crowe Joins Aaron Taylor-Johnson in Sony Marvel Movie 'Kraven the Hunter' (Exclusive) https://t.co/S7xj6oQp5t

— Heat Vision (@HeatVisionBlog) February 9, 2022
﹡﹡﹡﹡﹡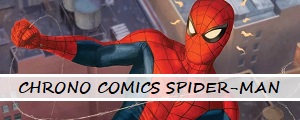 ﹡﹡﹡﹡﹡
Kraven the Hunter est réalisé par J.C. Chandor et sort aux Etats-Unis le 13 janvier 2023, avec Aaron Taylor-Johnson (Serguei Kravinov).