Une première recrue masculine pour Ironheart ! Anthony Ramos – qui n'est autre que la star de la comédie musicale D'où l'on vient et qui sera bientôt à l'affiche de Transformers : Rise of the Beasts – a été choisi pour jouer un rôle-mystère majeur dans la série Marvel Studios/Disney+. En effet, Deadline nous apprend qu'il s'agit dans la forme d'un rôle à la Kang le Conquérant. Comprendre : à l'instar de Kang dans Loki, ce personnage apparaîtra une première fois dans Ironheart, avant de jouer un rôle plus important au sein de l'Univers Cinématographique Marvel. Lequel ? Seul Kevin Feige le sait…
[Synopsis extrait des comics] Tony Stark a disparu mais le monde a toujours besoin d'Iron Man. La jeune Riri Williams décide de reprendre le rôle mais à sa façon, et avec l'aide de Mary-Jane Watson et de Pepper Potts !
Anthony Ramos looks to have entered the Marvel Cinematic Universe (EXCLUSIVE) https://t.co/FEvGneFvrE pic.twitter.com/pzxuRJ0r9j

— Deadline Hollywood (@DEADLINE) February 9, 2022
﹡﹡﹡﹡﹡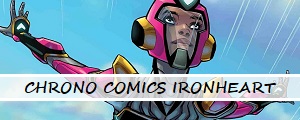 ﹡﹡﹡﹡﹡
La série Ironheart sera diffusée en 2023 (?) sur Disney+, avec Dominique Thorne (Riri Williams/Ironheart).