La vie suit son cours… Tandis que les dirigeants de Warner Bros. Discovery envisagent un énième remaniement de DC Comics, la plateforme HBO Max vient de donner son feu vert à la série Dead Boy Detectives. Le vrai-faux spin-off de Doom Patrol – pour rappel, les acteurs ne seront plus les mêmes – aura donc pour showrunner Steve Yockey (The Flight Attendant), avec toujours Jeremy Carver (Doom Patrol, Supernatural) et Greg Berlanti/Sarah Schechter (The Flash, Arrow) à la production, et Lee Toland Krieger (Superman & Lois, Shadow and Bone) à la réalisation du pilote. Alors que l'on attend désespérément des nouvelles de Green Lantern et Constantine, force est de constater que ce sont souvent les projets les moins attendus qui sont produits les plus rapidement !
Dead Boy Detectives est une histoire de fantômes qui explore la perte, le chagrin et la mort à travers les yeux d'Edwin Payne et Charles Rowland, deux adolescents britanniques décédés, et de leur amie très vivante, Crystal Palace. Donc, cela ressemble beaucoup à une série policière à l'ancienne – sauf qu'elle est plus sombre et sous acide.
'Dead Boy Detectives' Series a Go at HBO Max https://t.co/HoIBfP7I55

— The Hollywood Reporter (@THR) April 14, 2022
﹡﹡﹡﹡﹡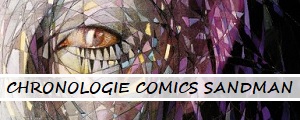 ﹡﹡﹡﹡﹡
La série Dead Boy Detectives sera diffusée en 2023 (?) sur HBO Max, avec Ty Tennant (Edwin Payne), Sebastian Croft (Charles Rowland), Madalyn Horcher (Crystal Palace), Alexander Calvert (Thomas The Cat King), Briana Cuoco (Jenny), Jenn Lyons (Esther), Yuyu Kitamura (Niko) et Ruth Connell (Night Nurse).