Qui réalisera El Muerto, le sixième film de l'Univers Spider-Man de Sony ? Qui dirigera le rappeur Bad Bunny (Bullet Train, Fast & Furious 9) ? Steven Spielberg ? Christopher Nolan ? Stanley Kubrick ? Terrence Malick ? Que nenni ! Sony Pictures a choisi Jonás Cuarón (Desierto, Año uña), qui n'est autre que le fils d'Alfonso Cuarón (ils ont d'ailleurs écrit Gravity ensemble). The Wrap nous informe également que le scénario de ce spin-off arachnéen a été confié à Gareth Dunnet Alcocer (Miss Bala), qui vient tout juste de signer Blue Beetle. Pas bête la guêpe !
Pour rappel, Juan-Carlos Estrada Sánchez est un catcheur qui a affronté Spider-Man sur le ring afin d'hériter d'un masque magique. El Muerto est apparu dans Friendly Neighborhood Spider-Man #6-7 en 2006 et… c'est tout. On parle bel et bien d'un personnage complètement inconnu pour lequel il n'y a qu'une seule image potable sur internet. A côté de lui, Spider-Woman, Black Cat, Silver Sable, Silk, Jackpot et Nightwatch – tous considérés à un moment ou à un autre pour un film – sont de véritables stars…
Exclusive: Jonás Cuarón is on board to direct Bad Bunny (@sanbenito) in Sony Pictures' "El Muerto" from "Blue Beetle" screenwriter Gareth Dunnet-Alocer https://t.co/wz1jq7Slrb

— TheWrap (@TheWrap) October 4, 2022
﹡﹡﹡﹡﹡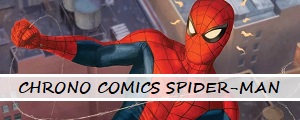 ﹡﹡﹡﹡﹡
El Muerto est réalisé par Jonás Cuarón et sort aux Etats-Unis le 12 janvier 2024, avec Bad Bunny (Juan-Carlos Estrada Sánchez/El Muerto).