Alors que tout le monde s'interroge sur l'éventuel retour de Deborah Ann Woll (Karen Page), Daredevil : Born Again commence à constituer son casting féminin ! Ainsi, les deux premières actrices de la maxi-série Marvel Studios/Disney+ se nomment Margarita Levieva (The Deuce, Revenge) et Sandrine Holt (The Expanse, Homeland). D'après Deadline, il se pourrait qu'elles jouent les 'love interests' de personnages principaux. Espérons qu'il n'y a pas de recast dans l'air ! Enfin, on remarquera que c'est une très belle semaine pour Levieva, puisqu'elle a rejoint il y a quelques jours la distribution de The Acolyte…
[Synopsis extrait des comics] Karen Page, l'ancien amour de Matt Murdock devenue toxicomane, a commis l'impensable en échangeant l'identité secrète de Daredevil contre une dose. Le terrible secret tombe entre les mains du Caïd, qui va méticuleusement détruire tout l'univers de Murdock. L'Homme Sans Peur pourra-t-il se relever de cette épreuve ? Renaissance est très certainement la saga ultime de la carrière de Daredevil, pourtant riche en moments marquants. La chute du héros et son retour à la vie, racontés par Frank Miller et David Mazzuchelli, fait partie des sagas des années 80 qui ont clairement permis au comics d'être considéré comme une forme d'art à part entière.
EXCLUSIVE: Margarita Levieva and Sandrine Holt are set for major roles opposite Charlie Cox and Vincent D'Onofrio in #DaredevilBornAgain, Marvel's upcoming revival series on Disney+, sources tell Deadline https://t.co/BbTx0x0gGg

— Deadline Hollywood (@DEADLINE) December 5, 2022
﹡﹡﹡﹡﹡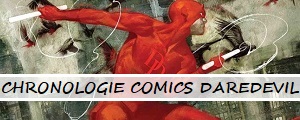 ﹡﹡﹡﹡﹡
La série Daredevil : Born Again sera diffusée au printemps 2024 sur Disney+, avec Charlie Cox (Matt Murdock/Daredevil), Vincent D'Onofrio (Wilson Fisk/Kingpin) et Michael Gandolfini.