La semaine dernière, la chaîne The CW a surpris son monde en dévoilant sa grille des programmes pour la rentrée hivernale avec… zéro série DC Comics à l'horizon. Sauf que cette grille des programmes était visiblement incomplète ! Aujourd'hui, nous avons donc la confirmation que la saison 9 de The Flash sera bel et bien diffusée à partir du mercredi 8 février 2023. C'est l'ultime saison des aventures de Barry Allen, treize épisodes qui détermineront en partie l'héritage que laissera la série, dernière représentante de la Terre-Prime de l'Arrowverse. Souhaitons justement une fin aussi réussie qu'Arrow !
Après avoir vaincu Reverse Flash une fois pour toutes, la saison 9 de The Flash reprend une semaine après cette bataille épique, alors que Barry Allen et Iris West-Allen se reconnectent et se rapprochent plus que jamais. Mais lorsqu'un groupe meurtrier de Rogues arrive à Central City dirigé par une nouvelle et puissante menace, The Flash et son équipe – Caitlin Snow, la méta-empathe Cecile Horton, la méta-lumineuse Allegra Garcia, le brillant technophile Chester P. Runk et le cryo-voleur réformé Mark Blaine – doivent de nouveau défier des obstacles impossibles pour sauver la situation. Mais tandis que les Rogues sont vaincus, un nouvel adversaire mortel se lève pour défier l'héritage héroïque de Barry Allen. Dans ce qui s'annonce comme leur plus grande bataille à ce jour, Barry et la Team Flash sont poussés dans leurs limites, afin de sauver Central City une dernière fois.
#TheFlash's Final Season Set for February Premiere at The CW https://t.co/7mQq5yHqZe

— TVLine.com (@TVLine) December 5, 2022
﹡﹡﹡﹡﹡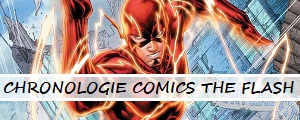 ﹡﹡﹡﹡﹡
La série The Flash revient à partir du 8 février 2023 sur la chaîne The CW, avec Grant Gustin (Barry Allen/The Flash), Candice Patton (Iris West-Allen), Danielle Panabaker (Caitlin Snow/Killer Frost), Jesse L. Martin (Joe West), Danielle Nicolet (Cecile Horton), Kayla Compton (Allegra Garcia) et Brandon McKnight (Chester P. Runk).