Plus on est de fous… Alors que le tournage bat son plein depuis le 3 octobre au Royaume-Uni, la saison 2 du Seigneur des Anneaux : Les Anneaux de Pouvoir dévoile enfin ses nouvelles recrues ! Et les nommés sont : Gabriel Akuwudike (Hanna, La Guerre des Mondes), Yasen 'Zates' Atour (The Witcher, Robin des Bois), Ben Daniels (Jupiter's Legacy, Rogue One : A Star Wars Story), Sam Hazeldine (The Sandman, Peaky Blinders), Amelia Kenworthy (Messenger, Irl), Nia Towle (Persuasion, Rocketman) et Nicholas Woodeson (Skyfall, John Carter). Qui jouera qui ? La seule chose que l'on sait pour l'instant, c'est que Sam Hazldine remplacera Joseph Mawle dans le rôle d'Adar. En l'absence d'explication – sans doute un problème d'emploi du temps ? -, on ne peut que regretter le départ de Mawle, qui s'est montré excellent en père des orcs. Vraiment dommage ! Alors, qui voyez-vous en Elfes, Humains, Nains et autres Piévelus ? A vos théories !
[Synopsis de la saison 1] La série d'Amazon Studios présente pour la toute première fois sur les écrans les légendes héroïques du légendaire Second Âge de l'histoire de la Terre du Milieu. Ce drame épique se déroule des milliers d'années avant les événements du Hobbit et du Seigneur des Anneaux de J.R.R. Tolkien, et ramène les téléspectateurs à une époque où de grandes puissances ont été forgées, où des royaumes ont basculé de la gloire à la ruine, où des héros improbables ont été testés, où l'espoir est suspendu par le plus fin des fils et où le plus grand méchant qui jaillit de la plume de Tolkien menace de couvrir le monde entier de ténèbres. Commençant à une époque de paix relative, la série suit un ensemble de personnages, à la fois familiers et nouveaux, alors qu'ils affrontent la réémergence tant redoutée du mal sur la Terre du Milieu. Des profondeurs les plus sombres des Monts Brumeux, aux forêts majestueuses de la capitale des elfes de Lindon, au royaume insulaire à couper le souffle de Númenor, jusqu'aux confins de la carte, ces royaumes et personnages se tailleront des héritages qui perdureront longtemps après qu'ils soient morts.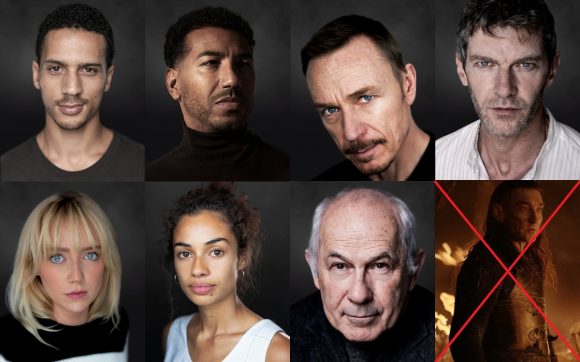 I loved my time exploring middle earth and diving into Tolkien's mythology. I'm so honoured that the character was liked. He cared deeply about telling you his story. Though as an actor it remains my wish, my job description to explore new characters and worlds. Wishing all the

— Joseph Mawle (@realjosephmawle) December 1, 2022
Best to cast and crew for S2, I'll be cheering you on from the sidelines X

— Joseph Mawle (@realjosephmawle) December 1, 2022
La série Le Seigneur des Anneaux : Les Anneaux de Pouvoir revient en 2024 sur Prime Video, avec Morfydd Clark (Galadriel), Robert Aramayo (Elrond), Lloyd Owen (Elendil), Nazanin Boniadi (Bronwyn), Ismael Cruz Córdova (Arondir), Markella Kavenagh (Elanor 'Nori' Brandyfoot), Daniel Weyman (l'Etranger), Owain Arthur (Durin IV) et Charlie Vickers (Sauron).