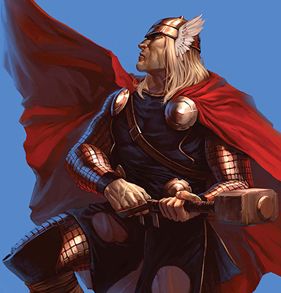 Le tournage de Thor vient de débuter il y a moins de dix jours, c'est donc le moment de faire le point sur ce que nous savons à propos du casting, du tournage, et des infos diverses ! Tout d'abord, le casting, qui est sans doute l'un des plus prestigieux pour un film Marvel (on est gâté et tant mieux !) :
Chris Hemsworth (Star Trek) incarne Thor.

Anthony Hopkins interprète son père Odin, souverain d'Asgard.

Natalie Portman (mon actrice préférée !) est Jane Foster, une infirmière qui travaille avec l'alter ego terrien de Thor, le docteur Donald Blake.

Tom Hiddleston est le villain Loki, expert dans la traîtrise et les coups bas.

Jaimie Alexander joue une guerrière asgardienne, Sif, amoureuse de Thor.

Stellan Skarsgard est le Professor Andrew Ford

Ray Stevenson (Volstagg), Tadanobu Asano (Hogun), et Joshua Dallas (Fandral) sont "Les Trois Guerriers", un groupe de guerriers asgardiens compagnons d'arme de Thor.

Rene Russo est Frigga, la femme d'Odin et la mère adoptive de Thor et Loki.

Idris Elba joue Heimdell, frère de Sif, le gardien d'Asgard, qui protège le pont Bifrost des ennemis.

Samuel L. Jackson interprète un certain Nick Fury…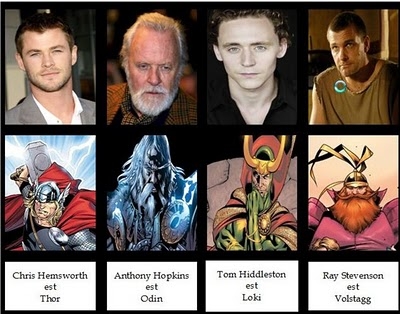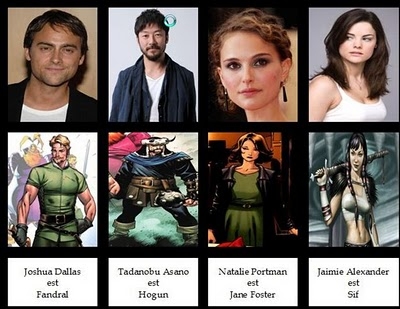 Sans oublier à la réalisation l'acteur et réalisateur
Kenneth Branagh
! Sachant que la première photo pour
Iron Man
avait été publiée au bout d'un mois d'un mois de tournage, nous pouvons peut-être espérer un petit quelque chose vers la fin février… En tout cas, c'est tout Marvel qui se montre très enthousiaste à propos du film, de
Kevin Feige
(producteur) à
Joe Quesada
(éditeur en chef des comics).
La grande nouvelle, c'est la visite de Jon Favreau sur le tournage (info via son compte Twitter) : « Visited the Thor set. I would look cool in one of those costumes. » Un pas de plus vers Les Vengeurs ?… Toujours grâce à Twitter, l'actrice Jaimie Alexander (Sif) nous apprend qu'elle à rencontrée Jon Favreau. La présence de l'actrice sur le tournage confirme les rumeurs affirmant que les scènes asgardiennes seraient les premières à être tournées, à commencer par la fin… soit le combat entre Thor et Loki ! Thor sort 4 mai 2011.