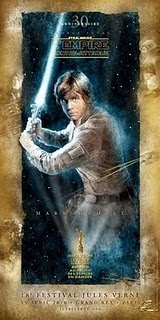 La « journée Star Wars » vient de se finir il y a quelques heures… Tout sur cette journée : récit, photos, vidéos, diaporama…
C'était l'occasion d'être plongé dans notre univers favori pendant toute une journée, du petit matin à minuit, et d'être, littéralement le temps de quelques heures, dans cette galaxie lointaine, très lointaine. Au programme, deux temps forts : la venue de Mark Hamill dans la boutique Le Carré d'Encre (La Poste), puis, en soirée, l'anniversaire des 30 ans de Star Wars Episode V – L'Empire Contre-Attaque, au Grand Rex, dans le cadre du Festival Jules Verne, avec toujours en vedette, la présence de Luke Skywalker en personne !
Mais commençons par le début. Il fallait être très matinal pour avoir la chance de rencontrer Mark Hamill ! Le Carré d'Encre, une boutique de La Poste, mettait en vente une planche de dix timbres en édition limitée (5000 exemplaires, 35 euros), pour commémorer les 30 ans de l'épisode V de Star Wars. Il était annoncé qu'Hamill signerait les timbres de façon non-nominative (pour un prix qui passait à 65 euros…), ainsi qu'un document de notre choix. Au final, la signature nominative (c'est déjà mieux), et en plus, il n'y avait pas à payer de supplément (juster régler les timbres). De quoi motiver, surtout en arrivant à 10 heures 30, en penssant qu'avec une centaine de personnes devant soi, avec deux heures de dédicaces, il était certain d'entrer dans la boutique ! Sauf que…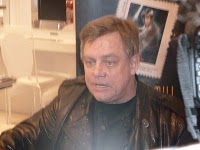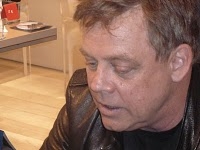 La queue a diminuée très lentement… A peine soixante personnes par heure… Du coup, vers 13 heures, les vigiles ont annoncé qu'il était inutile d'espérer un autographe, à la grande déception de beaucoup, puisque même en arrivant trois heures plus tôt, ça ne passait pas ! Quelques uns sont partis, sans même acheter les timbres. Dommage pour eux, car il fallait persévérer ! J'ai eu la chance d'entrer dans les derniers (seulement six personnes après moi !). Bien sûr, il était possible de faire des photos dans la file, contrairement, encore, à ce qui avait été indiqué. Avec mon anglais pitoyable, je tends mes documents : Elo, Tanke Youu, and Good Luck for The Black Pearl (il vient d'être annoncé la semaine dernière qu'il allait adapter son propre comic sur grand écran). J'ai eu le droit à un « Oh, Thank you ! », et deux signatures, de quoi être satisfait de la matinée !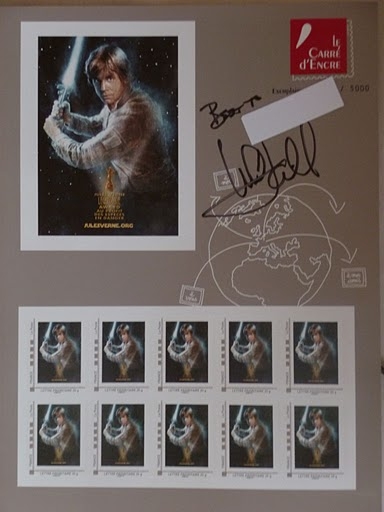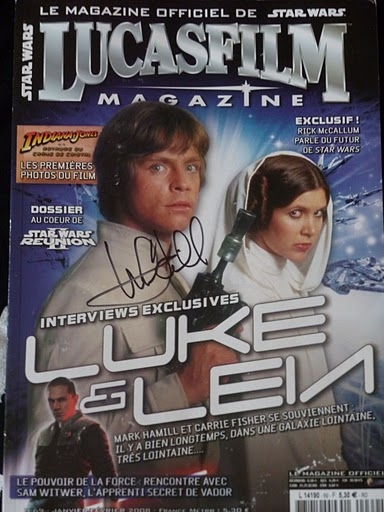 Attroupement général lors de sa sortie (même pas par une porte dérobée !), léger salut de la main, et il disparait… jusqu'à ce soir.
Grand Rex, 18 heures, la longue file d'attente habituelle ! Pour s'occuper, quelques costumés de qualité à photographier : un couple Han Solo/Leia plus vrai que nature, un Wookie, des Stormtroopers, Dark Vador, un C3-PO rutilant… Et beaucoup de caméras, irrésistiblement attirées par par eux. Toutes les chaînes de la TNT ou presque étaient là… avec les mêmes questions. Mention spéciale à une Dark Talon, dont la sombre présence s'est diffusée jusqu'à BFM TV.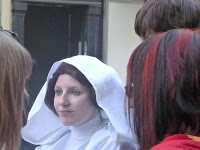 La soirée en elle-même : en orchestre, bien placé. Sur chaque siège, un exemplaire du numéro 1 de Star Wars Comics Collector (les éditions Atlas avaient aussi un stand). Petit retard de Mark Hamill (il était présent en direct sur le plateau du Grand Journal de Canal +) à peine remarqué grâce à la prestation de l'équipe du Souffle du Vent (un show différent de celui présenté lors de la Star Wars Reunion II), par la projection de la bande-annonce du Festival (avec applaudimètre pour les films et séries diffusées lors des dernières années), et un montage sur l'oeuvre de Georges Lucas…
Puis enfin, l'entrée en scène d'Hamill, entouré par les créateurs du Festival, sans oublier R2-D2 et C3-PO. Standing ovation !
L'acteur est resté pendant quarante minutes, répondant aux questions des organisateurs. Meilleur souvenir de tournage, sa présence dans une nouvelle trilogie, Alec Guiness, le fait de rester célèbre pour un rôle datant de plus de 30 ans, sa rencontre avec sa femme… de l'Univers Etendu, Mara Jade (où il découvre qu'il a un enfant !), hommage à Lucas pour son univers, à Méliès, à Verne…
Mais qui dit Saint Georges (ça tombait bien), dit une petite surprise… R2 avait en effet un message à transmettre, et qui mieux que Luke en personne pour déverouiller la communication holographique/le message vidéo ?
Pour terminer, un Jules Vernes Award a été décerné à Mark Hamill, avec en guise de fond, les membres de la 501ème, et son « père » Dark Vador, le tout sous le crépitement des photographes ! Et après ? Le film, pour la x-ème fois, en VOST et en Edition Spéciale (bouh l'Empereur rajouté, grrr les explosions qui font tâches), avec un plaisir toujours aussi grand : c'est ça Star Wars !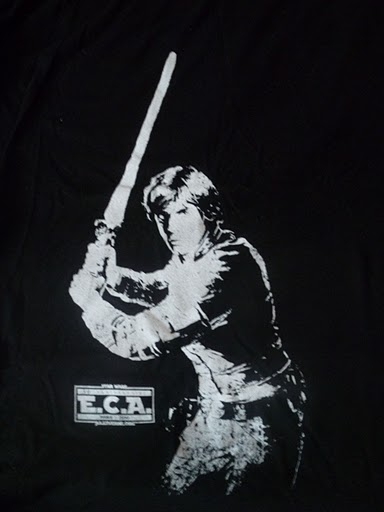 T-shirt exclusif de la soirée