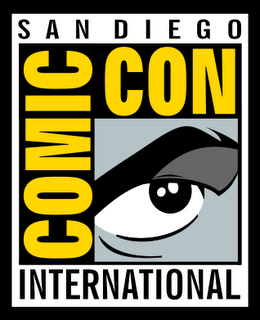 [Et c'est parti !]
Au moment où je rédige cet article, il est exactement 1 heure 20 du matin… Cela veut dire que le grand panel Marvel, LE moment le plus attentu du Comic Con 2010, se déroulera dans pile 100 minutes.
De 3 heures à 4 heures du matin, heure française, Marvel va dévoiler au monde ses deux prochaines productions, Thor et Captain America !
Sans doute un premier teaser/bande annonce pour le premier film, sans doute aussi le costume de Captain America pour le film éponyme… Si comme moi, vous n'êtes pas en ce moment même à San Diego, au milieu des 6500 personnes qui attendent de rentrer dans le Hall H,
vous pourrez suivre quand même ce grand moment, sur cette page, en direct, grâce à des mises à jour minute par minute.
Et peut-être que la chaîne MTV, grâce à ce flux ci-dessous, diffusera le panel. Mais pour le moment, il n'y a que des interviews live… Rendez vous à 3 heures !
3.00 : Tout le monde porte des lunettes 3D pour ce panel… Bande annonce de Thor ? Je crois qu'on peut déjà dire OUI !!!!
3.05 : La mère de Mark Ruffalo est présente dans la ligne des invités… Son fils est donc bien, sans conteste, le nouveau Hulk ! Plus de doute possible !
3.07 : Le site officiel de The Avengers/Les Vengeurs, vient d'être mis en ligne à l'instant !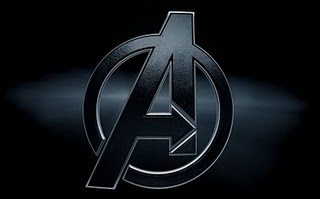 3.15 : Un homme a été poignardé à l'oeil avec un stylo dans le Hall H (ce n'est pas une blague) d'où le retard. Le panel va commencer malgré cela, la police est sur place.
3. 30 : Le panel AURA BIEN LIEU. Mais il faut patienter un peu. En attendant, histoire de s'occuper, l'arrestation du coupable…
3.45 : Ca commence vraiment enfin ! « The Marvel Studios success story began here in Hall H. » !
3.47 : Kevin Feige, le patron de Marvel Studios est sur scène ! VIDEO de Captain America !
3.48 : Diffusion d'un teaser de Captain America (alors que le tournage venait pourtant de débuter) ! Images de la Seconde guerre mondiale. Le bouclier de Captain America. Et enfin, une image rapide de Chris Evans, de profil, en costume ! « Next Summer, Meet the World's First Avenger ». Le teaser se termine avec le bouclier, lancé par Cap, qui vole vers le public.
3.53 : Joe Johnston sur scène, avec Chris Evans et Hugo Weaving !
3.55 : Diffusion d'images de Chris Evans lors des essais pour le costume de Cap. Evans déclare que le tournage a débuté pour lui il y a 5 jours (et on a déjà un teaser, fichtre).

4.00 : Nouvelle vidéo, montrant ce qui vient juste d'être filmé la semaine dernière. C'est du brut comme l'annonce Johnston. Normandie. Mai 45. Un château. Une tombe. Des soldats de l'HYDRA. Ouverture de la tombe/d'un compartiment secret : Crâne Rouge (sans son masqueà trouve le Cube Cosmique ! Un homme le prévient du danger.
4.04 : On passe maintenant à Thor. Kenneth Branagh sur scène !

4.05 : Le reste du casting. Natalie Portman, Kat Dennings, Tom Hiddleston, Chris Hemsworth.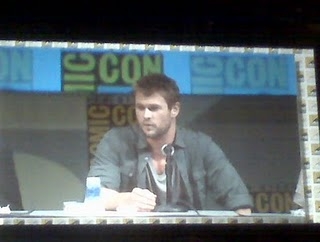 4.10 : Le rôle de Kat Dennings est Darcy, un nouveau personnage, une création. Elle est u aide, une soeur, une amie pour le personnage de Jane Joster (Portman).
4.12 : Clark Greg (l'agent Coulson) est présent. Il « est la glue du Marvel Cinematic Universe ». Il ne pensait pas jouer dans Thor, lorsqu'il a été engagé dans Iron Man (tu m'étonnes !).
4.15 : Diffusion d'une vidéo de Thor. Le cosmos, Asgard, les trois guerries, le trône d'Asgard… C'est en 3D et elle est bonne !

4.23 : Vidéo live du panel Thor ! Natalie Portman ne sera pas dans The Avengers. Les question du public maintenant.
4.28 : Les droits du Punisher sont de retour chez MARVEL STUDIOS !
4.37 : La bande annonce est splendide. Ca dure 5 minutes. Capture d'écrans dans quelques minutes !
AVENGERS TEASER ils sont tous là. Samuel L Jackson ! Robert, oh punaise !!!!
Les VENGEURS SUR SCENE ! Enorme, un rêve de fan qui devient réalité !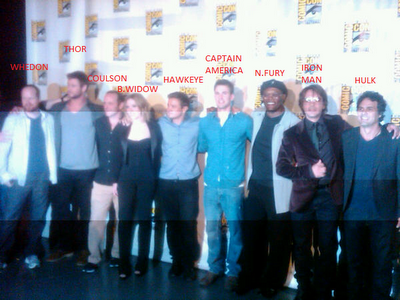 FIN DU PANEL : Mise à jour complète avec des articles détaillés en page d'accueil !