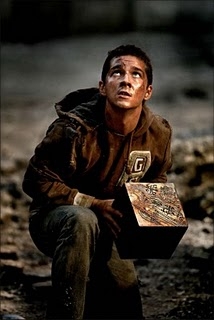 Comme annoncé
mardi
, la chaîne américaine ET (
Entertainment
Tonight
) a diffusé un reportage sur le tournage de
Transformers 3 – Dark of the Moon.
Au final, six minutes d'images, centrées sur le tournage à Chicago. Pas de réelles révélations mais beaucoup de discours promo (du genre
« On va faire mieux que le 2 »
) ! Sam Witwicky (Shia Labeouf) sera décoré comme héros national pour ses faits d'arme contre les Decepticon. Comme dans chaque film de la série, il aspire à une vie « normale ». Et justement,
il retrouve un semblant de normalité avec Carly
(Rosie Huntington-Whiteley), son nouvel amour. Malheureusement pour lui, les Decepticon ne seront pas son seul ennemi dans ce nouveau film : on parle du patron de Carly, joué par
Patrick Dempsey
, dans un triangle amoureux ! Dempsey vs. Labeouf :
Michael Bay ose tout !
Niveau tournage à Chicago, c'est du déjà vu : des explosions, des voitures renversées, et des rues défoncées ! Vivement un petit teaser…