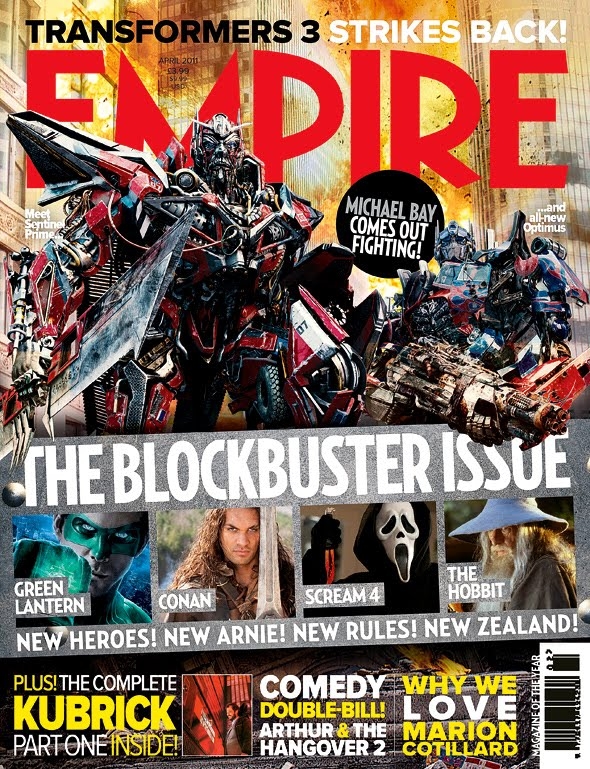 Empire
est décidément le magazine de cinéma qui bénéficie des couvertures les plus grandioses… Au programme de ce nouveau numéro,
Transformers 3 -Dark of the Moon
. Optimus Prime paraît presque en retrait sur l'image, pour introduire l'une des sensations de ce nouvel opus,
Sentinel Prime
, décrit comme
un grand frère et un mentor d'Optimus
… Les autres révélations-promesses de l'article sont alléchantes :
pas de sable
[les batailles dans le désert devenaient un chouilla répétitives],
pas d'humour abruti
,
le film sera nettement plus sérieux et adulte
[rien qu'à voir le peu de dialogue des spots TV, on peut y croire], des robots vont vraiment
mourir
, et plus généralement, ils auront plus de
poids
scénaristiquement parlant [donc une vraie personnalité… attendons !]. Plus de détails dans quelques jours, lorsque le magazine sera en kiosque. Pour finir, une mauvaise nouvelle :
la maison de production de Michael Bay a été cambriolée
. On ne sait pas ce qui a été volé (fichier vidéo, script ?) mais le FBI est sur le coup !