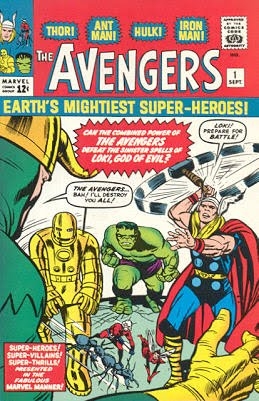 La guerre des tournages aura bien lieu !
The Dark Knight Rises contre The Avengers
… Avec justement un point commun : l'Inde ! En effet, si le tournage de la superproduction
Marvel
se déroule bien aux États-Unis, et plus précisément à Albuquerque, les inscriptions visibles sur les éléments du décor sont en sanskrit. Mais la principale information, c'est le type de lieu qui sert comme décor : il s'agit d'une vieille gare, celle de Santa Fe, louée pour l'occasion.
Une gare, des trains, la formation des Vengeurs… cela ne vous dit rien ?
Dans le premier numéro de
The Avengers
, Loki veut se venger de son frère Thor, qui est caché incognito sur Terre. Pour qu'il se révèle, Loki met en place un stratagème : il fait croire à Hulk, au moyen d'une illusion, qu'un train est en danger. Le Colosse de Jade, voulant bien faire, provoque malgré lui une catastrophe, mais sauve finalement le train de justesse, en soulevant le pont ferroviaire qu'il avait lui-même détruit quelques instants auparavant. Dans le contexte du film,
j'imagine tout à fait Bruce Banner se cacher en Inde. Dans sa retraite, Loki le retrouve et le manipule, avec pour résultat une saisissante séquence d'action ferroviaire qui servirait d'ouverture au film !
Au rayon du casting, l'actrice
Gwyneth Paltrow
(Pepper Potts dans les
Iron Man
) déclare :
Je serais peut-être très brièvement dans The Avengers. Peut-être. Nous verrons.
Je n'ai de cesse de le répéter, le casting de
The Avengers
manque de personnages féminins. Avec une apparition une possible apparition de Pepper, nous pouvons peut-être espérer un retour de Betty Ross (Liv Tayler), la dulcinée de Banner ? Mais pourrait-elle seulement reconnaitre son mari (cf. changement d'acteur)… Je rappelle au passage que Natalie Portman ne sera PAS au casting de
The Avengers
. C'est tout pour aujourd'hui !