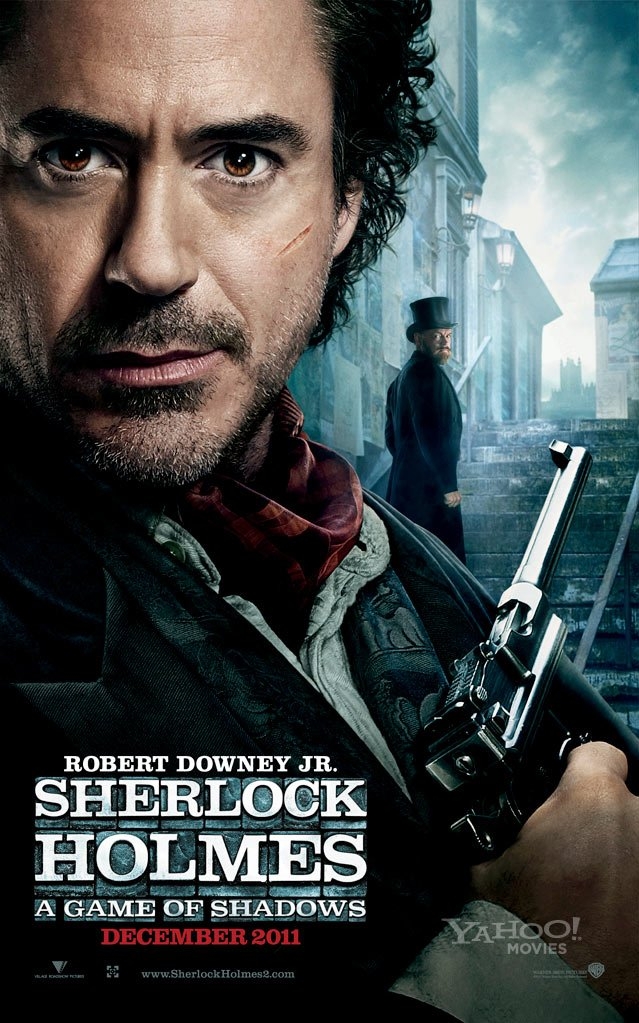 Avant de reprendre son armure d'

Iron Man

dans

The Avengers

, Robert Downey Jr. crèvera l'écran dans l'autre franchise dont il est le héros :

Sherlock Holmes

!
L'actualité du nouveau film de Guy Ritchie était très calme depuis le tournage en France, devant la cathédrale de Strasbourg. Mais tout va changer la semaine prochaine, puisque
la première bande annonce du film Sherlock Holmes 2 – A Game of Shadows
sera diffusée juste avant
Harry Potter
aux Etats-Unis ! Pour préparer le terrain, voici deux posters présentant les héros, et les nouveaux. Dans l'ombre de Sherlock Holmes, nous découvrons
le Professeur Moriarty
(Jared Harris), l'ennemi juré du détective anglais.
Le Docteur Watson
est quant à lui accompagné sur l'affiche de la mystérieuse Sim, une gitane interprétée par
Noomi Rapace
… Rappelons que le casting accueille aussi le français
Gilles Lellouche
(rôle indéterminé),
Stephen Fry
(Mycroft, le frère de Sherlock Holmes), et
Rachel McAdams
(Irène Adler, qui fait son grand retour). Le film sortira le 16 décembre 2011 sur les écrans américains et le…
25 janvier 2012 en France
. Misère : j'exige une sortie mondiale systématique pour tous les blockbusters !