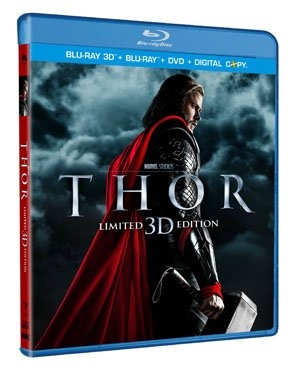 Une très chouette bande annonce pour…
Thor
. Celle de son DVD/Blu-Ray, qui sera en vente aux Etats-Unis le 13 septembre (le 5 octobre dans nos contrées). Outre
les traditionnelles scènes coupées – près de 11
, par exemple des séquences avec Frigga (Rene Russo), la belle-mère du héros – en plus de l'heure et demie de
making of
et de documentaires,
l'édition du film en DVD/Blu-Ray contiendra un aperçu (
sneak peek
) de The Avengers,
comme le prouve la bande annonce ci-dessous, montrant un extrait de
Joss Whedon
en interview… Mais le morceau le plus intriguant et le plus intéressant sera
le court métrage Marvel « The Consultant »
, dont j'ai déjà parlé
ici
. Dans cette histoire inédite, l'Agent Coulson et
l'Agent Jasper Sitwell
(tout le monde se souvient de lui dans
Thor
?) conspirent pour rouler dans la farine le Général Thunderbolt Ross (le militaire qui poursuit avec acharnement Hulk – précision pour les deux du fond qui ne suivent pas)… L'Agent Coulson au cinéma (
Iron Man, Thor, The Avengers
), en
comics
, en court métrage, en dessin animé (
The Ultimate Spiderman
), hypothétiquement en solo (un film sur le SHIELD ou une série ?) : le personnage prend de plus en plus d'importance. Pour mieux le transformer en Skrull ou mieux le tuer dans
The Avengers
? Car il y a une chose qui est certaine :
Joss Whedon aime tuer ses héros !
Demandez aux fans de
Buffy
et d'
Angel
…