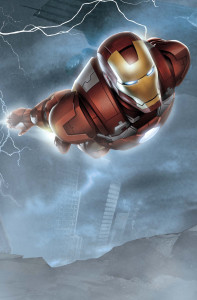 Comme son nom ne l'indique pas, Avengers – Solo est une mini-série de 5 épisodes ayant pour vedette Clint Barton, alias Œil de Faucon. Une aventure en comics, qui se déroule bien sur la Tere-616 et qui n'a donc aucun rapport avec le film The Avengers ! Marvel ne ratant jamais une occasion de récolter quelques dollars supplémentaires, chaque numéro a droit à une couverture variante reprenant l'apparence des personnages du film. Sur un malentendu…
Après Captain America et Thor, Iron Man vient compléter ce qui s'avère être une jolie frise. De quoi relancer le débat sur les armures du film ! Je suis certain que vous avez tous remarqué la présence de l'Héliporteur au-dessus de Tony Stark, alias le génie, le milliardaire, le playboy, le philanthrope préféré de Steve Rogers [nouveau jeu : placer des répliques de la bande annonce dans un article ou dans un commentaire, à vous !].
The Avengers sort le 25 avril 2012 avec Robert Downey Jr. (Tony Stark/Iron Man), Chris Hemsworth (Thor), Chris Evans (Steve Rogers/Captain America), Jeremy Renner (Clint Barton/Oeil de Faucon), Mark Ruffalo (Bruce Banner/Hulk), Scarlett Johansson (Natasha Romanoff/la Veuve Noire), Clark Gregg (l'agent Coulson), Samuel L. Jackson (Nick Fury), Cobie Smulders (Maria Hill), Tom Hiddleston (Loki) et Stellan Skarsgård (Erik Selvig).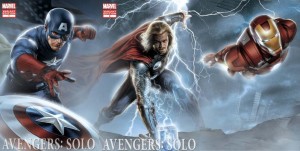 Montage réalisé par LadyMarion sur le forum Superherohype