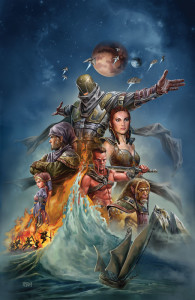 Voici LE projet qui va tenir en haleine tous les fans de Star Wars en 2012… La nouvelle saison de la série animée Clone Wars ? Pas vraiment. La ressortie de Star Wars Episode I – La Menace Fantôme en 3D ? Non plus.
Le projet en question est bien plus excitant : il s'agit d'une série de comics, intitulée Dawn of the Jedi (L'Aube des Jedi). Scénarisée par John Ostrander et dessinée par Jan Duursema, Dawn of the Jedi explorera une période inconnue de l'univers Star Wars : plus de 25 000 ans avant les films, les lecteurs découvriront l'origine des Jedi, la création de l'Ordre, à une époque où la République n'existait pas encore… Les premiers utilisateurs de la Force ne se battront pas avec des sabres laser, mais avec des épées, et le voyage en hyperespace n'en sera qu'à ses balbutiements…
Le numéro 0 de Dawn of the Jedi sortira le 1er février 2012 (couverture ci-dessous). Le numéro 1 suivra le 15 février (seconde couverture ci-dessous/couverture alternative ci-contre). Avec cette nouvelle saga, tout est possible, même un bateau à voile. Bienvenue dans la préhistoire de Star Wars ! Avec sa célérité habituelle, l'éditeur français Delcourt traduira sans doute le premier arc vers la fin de l'année prochaine.
Sachez enfin que Lucasfilm vient d'acheter au début du mois le nom de domaine Star Wars Identities (les adresses StarWarsIdentities.com, StarWarsIdentites.com et sw-id.com). Pour l'instant, on ne peut que spéculer : Identities est-il le nom de la tant attendue série TV avec acteurs ? S'agit-il d'une nouvelle série animée ? D'un jeu vidéo ? D'un site communautaire ? Par la barbe des Sith, il faudra attendre pour le savoir !