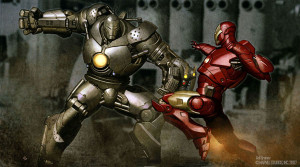 Adi Granov est l'un des illustrateurs préférés des lecteurs de comics. Aujourd'hui, son travail chez Marvel ne se limite plus aux simples publications de papier. En effet, depuis le film Iron Man, Granov travaille régulièrement avec la branche cinéma de la Maison des Idées. Présent lors d'une convention italienne, le dessinateur a répondu à quelques questions du site  Bad Taste au sujet de The Avengers…
L'artiste revient d'abord sur son travail, et sur ce qu'il peut éventuellement dévoiler : « Le problème est que je ne sais pas ce qui a été montré et ce qui a déjà été révélé par Marvel. Par exemple, j'ai créé une illustration pour le film où nous voyons pour la première fois le groupe ensemble avec tous les Vengeurs. J'ai rencontré un ami il y a quelques semaines qui avait cette image en fond d'écran, et ça m'a bouleversé. Je lui ai demandé d'où ça venait, parce que je ne savais pas que Marvel l'avait publiée. Quelques semaines auparavant sur internet, un trailer avec cette ilustration avait été montré, et je ne le savais même pas. Quelqu'un a fait une capture d'écran, et l'image était partout. Je ne peux pas me tenir à jour avec toutes ces informations. » La vidéo en question se trouve dans cet article.
Quand on lui demande s'il peut confirmer ou infirmer la rumeur selon laquelle les Skrulls, une race d'extraterrestres métamorphes, seront les grands méchants du film (en plus de Loki), Granov reste bien évidemment évasif : « En fait, je sais très bien qui seront les méchants dans le film, mais je ne peux ni confirmer ni en parler ! [rires] » C'est encore raté pour cette fois !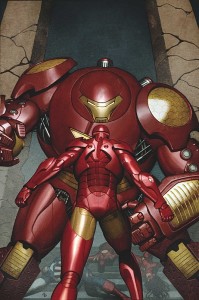 Granov évoque enfin le sujet du Hulkbuster, cette armure ultime de Tony Stark, conçue pour combattre Hulk, une armure que les fans de comics auraient souhaité découvrir dans The Avengers : « Dans le premier film, nous avions Iron Monger. L'idée [de l'armure] venait du Hulkbuster. J'ai fait une couverture avec le Hulkbuster. Jon Favreau [le réalisateur d'Iron Man] a aimé le design et m'a demandé de dessiner quelque chose de similiatire pour Iron Monger. Donc techniquement, le Iron Monger est le Hulkbuster, et je pense que c'est la raison pour laquelle nous ne le verrons pas dans un film avant un moment. Il ne serait qu'une autre grosse armure d'Iron Man. »
J'espère que vous n'êtes pas trop déçus… Pour en discuter, le forum et la section commentaires sont là pour vous !