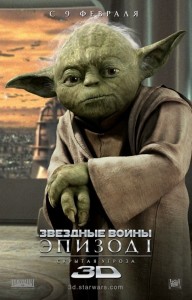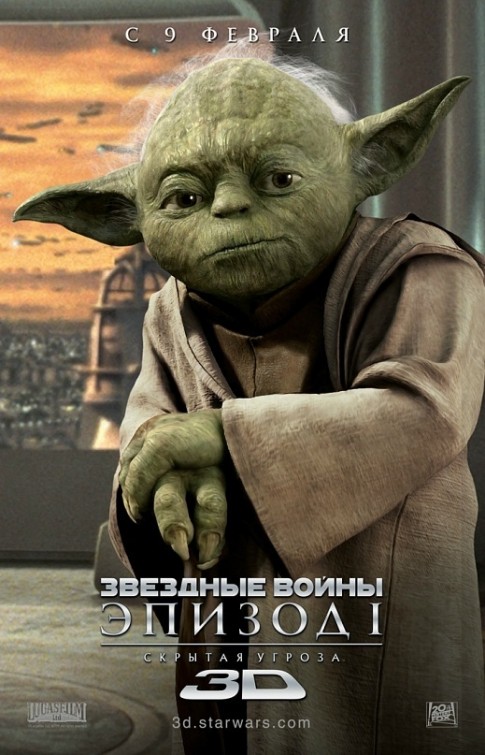 Marionnette or not marionnette, telle est la question ! Qui a dit que la ressortie en 3D de Star Wars Episode I – La Menace Fantôme consistait à revoir encore et encore le même film ? Ce poster russe de Yoda confirme, s'il en était besoin, que la « misérable petite créature verte » vieille de 900 ans abandonnera bien son aspect à l'ancienne pour une toute nouvelle peau numérique. Ce choix, vous approuvez ? Ou au contraire, mécontent du dernier tripatouillage de Maître Lucas vous êtes ?
Histoire de rabibocher tout le monde, un mot sur l'évènement Star Wars du jour (et de l'année) : le lancement officiel de Star Wars – The Old Republic ! Le jeu massivement multijoueur fait déjà parler de lui depuis quelque temps, à coup de cinématiques ahurissantes. Pour ceux qui seraient restés scotchés à World of Warcraft ces derniers jours, The Old Republic propose aux joueurs de déambuler joyeusement 3600 ans avant l'époque des films, en pleine guerre Jedi/Sith. A vous de choisir votre camp !
Mon choix est fait depuis samedi : pour la première fois de ma vie, j'ai plongé dans le monde fascinant d'un MMO, avec un but en tête, devenir un puissant Chevalier de l'Ancienne République… Y a-t-il déjà des accros parmi vous, ou d'autres qui vont bientôt le devenir ? A vos claviers !