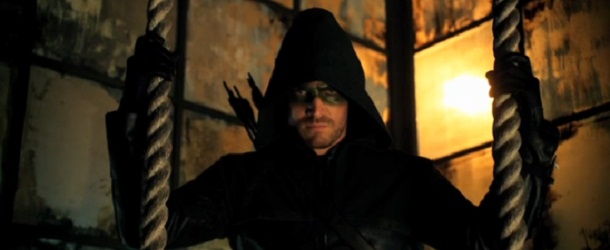 Les fans de l'Archer d'Émeraude peuvent reposer leur arc ! Depuis la publication des premières images de la nouvelle série TV Arrow, nombreux sont ceux qui ont critiqué l'absence de masque du héros. Il faut dire que depuis quelque temps, le concept même d'identité secrète semble battre de l'aile (The Avengers, The Amazing Spider-Man)… L'objet tant convoité fait donc son apparition aujourd'hui, dans une vidéo promotionnelle de la chaîne The CW. Mais à défaut d'un vrai masque, il faudra se contenter d'un discret loup peint.
Avec un peu de chance, vous pourrez voir Oliver Queen cligner des yeux dans la vidéo ci-dessous, au milieu des autres shows du network (Emily Owens, M.D., The Vampire Diaries, Gossip Girl…). Et pour ceux qui ne sont pas au courant, oui, Kristin Kreuk (Lana Lang dans Smallville) fait son grand retour sur le petit écran, dans Beauty and the Beast (La Belle et la Bête). Mais mon petit doigt me dit qu'Arrow a plus de chance de dépasser le cap de la première saison… Le GQ des fans du héros DC, c'est le forum Arrow !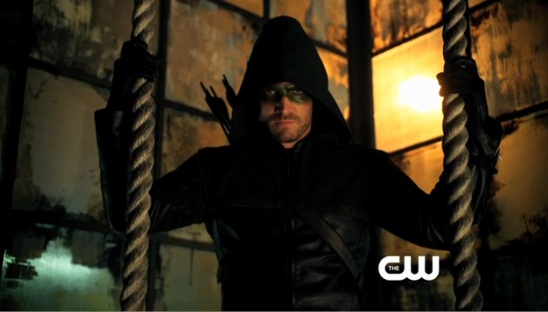 La série Arrow débute le 10 octobre aux Etats-Unis, avec Stephen Amell (Oliver Queen/Green Arrow), Colin Donnell(Tommy Merlyn), Katie Cassidy (Laurel Lance), David Ramsey (John Diggle), Willa Holland (Thea Queen),Susanna Thompson (Moira Queen), Paul Blackthorne (Quentin Lance), Colin Salmon (Walter Steele) et Darren Shahlavi (Constantine Drakon).