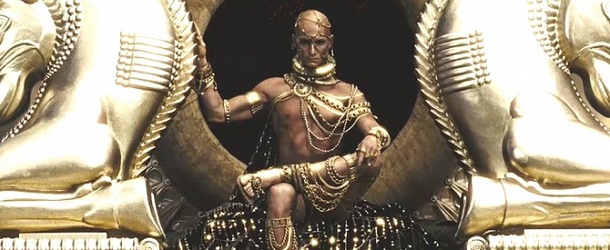 Au départ, la préquelle-suite-qui-se-passe-aussi-en-même-temps que 300 devait s'intituler Xerxès. Rien de sorcier, c'était tout simplement le titre du graphic novel de Frank Miller, un ouvrage qui n'est d'ailleurs toujours pas paru. En juin 2011, Xerxès s'est transformé en Battle of Artemisia, un titre qui ne voulait pas dire grand chose puisque la bataille que nous découvrirons dans le film est celle du Cap de l'Artémision (non, cela ne revient pas au même). Aujourd'hui, ultime changement. Nous parlerons désormais de… 300 – Rise of an Empire !
Après Fantastic Four – Rise of the Silver Surfer, Underworld – Rise of the Lycans, G.I. Joes – The Rise of Cobra, Rise of the Planet of the Apes et The Dark Knight Rises, c'est au tour de l'Empire perse de « riser ». Qui veut tenir le pari avec moi : The Avengers 2 – The Rise of Thanos ? Avouons que le terme d'avènement colle plutôt bien à la situation de l'Empire achéménide au début du Vème siècle avant Jésus-Christ, et pour un film qui aura également pour mission de nous montrer l'accession au pouvoir de Xerxès, le Roi des rois…
300 – Rise of an Empire de Noam Murro sort le 2 août 2013 aux Etats-Unis, avec Sullivan Stapleton (Général Thémistocle), Eva Green (Artémisia), Jack O'Connell (Calisto), Callan Mulvey (Scyllias) et Rodrigo Santoro (Xerxès).