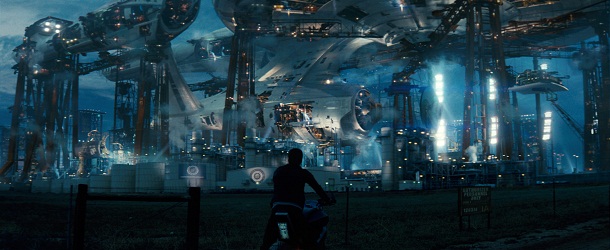 Enfin du concret pour Star Trek 2 ! Le film sort le 12 juin 2013 en France, mais à ce jour, pas une seule image officielle, pas un seul teaser n'a été révélé. Un manque d'informations qui n'a rien d'étonnant puisque J.J. Abrams est aux commandes… Alors que nous fêtons aujourd'hui le 46ème anniversaire de la série originale créée par Gene Roddenberry – un anniversaire célébré comme il se doit par Google avec un Doodle -, plusieurs sources annoncent que la production a trouvé un titre pour le film… Nous ne parlerons plus de Star Trek 2 mais de… Star Trek Into Darkness !
La saga de science-fiction adopte la dark-attitude popularisée par The Dark Knight, une mode qui ne cesse de faire des petits (Thor : The Dark World). Mais la vraie révolution pour ce « Star Trek dans l'obscurité », c'est l'absence des deux-points après les mots Star Trek. Une première. Le titre n'a pas encore été officialisé par la Paramount, mais le studio ayant acheté les noms de domaine www.startrekintodarkness.com et www.startrekintodarknessmovie, l'information semble quasi-confirmée. Elle l'est en tout cas, sur les sites trekkies qui font autorité. L'obscurité, le noir, les ténèbres, encore et toujours : un bon titre ?
L'Enterprise reprend le chemin des étoiles le 12 juin 2013, avec à son bord Kirk (Chris Pine), Spock (Zachary Quinto), Uhura (Zoe Saldana), Scotty (Simon Pegg), Sulu (John Cho) et Leonard McCoy (Karl Urban) ainsi que les comédiens Peter Weller, Noel Clarke, Benedict Cumberbatch et Alice Eve.