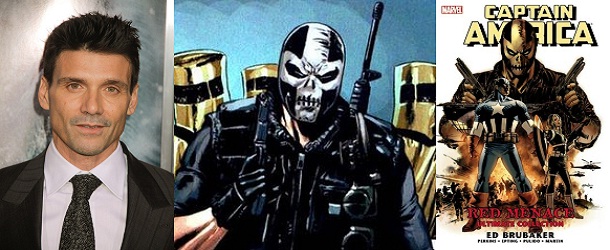 Encore une histoire de tweets… Il y a quelques heures, l'acteur Frank Grillo (Le Territoire des Loups, Warriors, Prison Break) a posté un gazouillis révélant qu'il avait visité les locaux de Marvel à Los Angeles : « Adieu Los Angeles. C'était un super voyage. Beaucoup de plaisir avec Marvel. Cool si ça marche. » Un message supprimé depuis, qui était accompagné du hashtag #captainamerica. L'acteur a récidivé quelques minutes plus tard, avec le mot-clef #bones. Il y a donc de l'audition dans l'air, pour le rôle de… Crossbones ! Oui, j'ai pris littérature option Sherlock Holmes au lycée.
Dans le même temps, un animateur radio a confirmé que Frank Grillo était sur le point de décrocher le rôle. Une confirmation survenue avant les tweets de l'acteur. Pas sûr que Marvel Studios apprécie tout ce buzz… Mais au fait, qui est Crossbones ? Un personnage essentiel dans la mythologie moderne de la Légende Vivante, et une figure incontournable de Captain America : The Winter Soldier. De son vrai nom Brock Rumblow, il a été créé à la fin des années 80. C'est un mercenaire, un combattant redoutable, expert en corps à corps et dans le maniement des armes. A tel point qu'il a tué Captain America juste après les évènements de Civil War ! [Note aux puristes : j'essaye de faire simple.]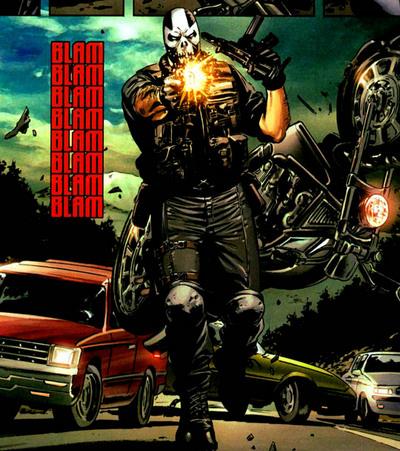 Homme de main de Crâne Rouge, il passe régulièrement par la case prison. Ces derniers temps par exemple, il a rejoint l'équipe des Thunderbolts, cette super-équipe de détenus en quête de réhabilitation. Mais quand il est en liberté, c'est le crime qui l'occupe, presque toujours accompagné de Sin, la fille de… Crâne Rouge. Si Tony Stark va déguster psychologiquement l'année prochaine, Steve Rogers va déguster psychologiquement ET physiquement, car Crossbones est un sacré client ! On se remémore sa vie, son oeuvre, sur le forum…
Captain America 2 – The Winter Soldier sort le 4 avril 2014 aux États-Unis avec Chris Evans (Steve Rogers/Captain America), Sebastian Stan (Bucky Barnes/le Soldat de l'Hiver), Scarlett Johansson (Natasha Romanoff/Black Widow) et Anthony Mackie (Sam Wilson/Le Faucon).