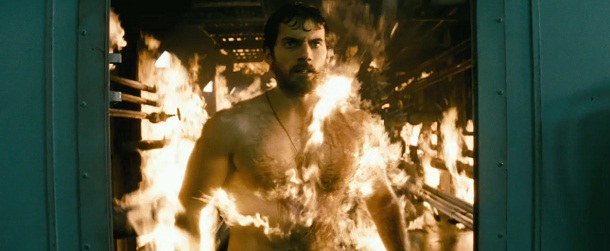 La MPAA (Motion Picture Association of America) a vu Superman – Man of Steel et a rendu son verdict… L'organisme américain chargé de la classification des films vient d'accorder un PG-13 au long métrage de Zack Snyder. Rien de surprenant, puisque tous les blockbusters super-héroïques écopent de la même classification (film déconseillé aux moins de 13 ans). Il y a tout de même quelques enseignements à tirer de cette annonce. Le PG-13 est justifié ici par : « des séquences intenses de science-fiction violente, de l'action et de la destruction, et certains mots inadéquats ».
Des éléments que l'on retrouve dans la majorité des super-productions actuelles. Mais dans l'univers de l'Homme d'Acier, c'est une petite révolution. Superman Returns était lui aussi PG-13, mais seulement pour « queqlues intenses scènes d'action violentes ». Quant aux quatre épisodes avec Christopher Reeves, ils étaient juste PG (accord parental souhaitable). Il n'y aura donc rien de « suggestif » ou de « sexuel » dans Man of Steel (à l'inverse d'un Transformers par exemple). Et surtout, fait rarissime, le classement est donné cinq mois avant la sortie, ce qui prouve que le film est quasiment terminé ! On discute des dernières rumeurs sur le forum…
Superman – Man of Steel sort en France le 19 juin 2013 avec Henry Cavill (Clark Kent/Superman), Amy Adams (Lois Lane), Diane Lane (Martha Kent), Kevin Costner (Jonathan Kent), Laurence Fishburne (Perry White), Michael Shannon (Général Zod), Russell Crowe (Jor-El), Ayelet Zurer (Lara), Antje Traue (Faora), Harry Lennix (Général Swanwick) et Christopher Meloni (Colonel Hardy).