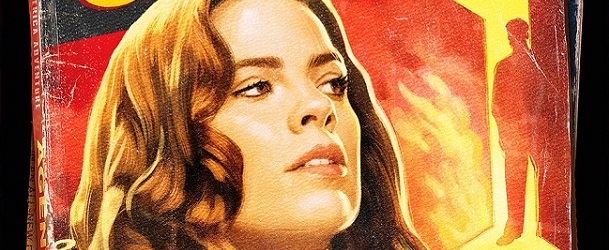 En attendant Captain America : Le Soldat de l'Hiver, voici Agent Carter, le plus ambitieux des courts métrages Marvel ! Entertainment Weekly vient de publier les premières images de ce Marvel One-Shot, que nous pourrons découvrir le 30 août prochain, dans les bonus Blu-ray d'Iron Man 3. Comme l'explique le producteur et réalisateur Louis D'Esposito, l'idée était de faire un film d'époque. D'où un certain budget… et une certaine pression !

Il y aura par exemple trois scènes d'action (contre une seule pour Item 47, le précédent court métrage, qui s'intéressait à l'après-bataille de New York). Le tournage a demandé cinq jours (contre quatre pour Item 47). D'Eposito annonce enfin une aventure deux fois plus longue qu'Item 47, qui durait tout de même… douze minutes. L'histoire débute un an après le sacrifice de Steve Rogers, à la fin de Captain America : The First Avenger.
Peggy Carter travaille pour le S.S.R. (Strategic Science Reserve), l'ancêtre du S.H.I.E.L.D. : « Il y a des bureaux satellites à New York et leur préoccupation principale est d'obtenir Zodiac. Dans les comics, Zodiac fait référence à beaucoup de choses différentes. Nous voulons juste que vous sachiez que c'est mortel, c'est important, c'est quelque chose que les méchants protègent, et il est impératif qu'elle l'obtienne. »
Au casting, on retrouve bien sûr Hayley Atwell et… Dominic Cooper ! L'acteur retrouve la moustache et le personnage d'Howard Stark, le père de Tony. D'autres caméos sont gardés secrets… Et si vous regardez attentivement l'affiche, vous noterez le nom d'un troisième acteur, Bradley Whitford, suspecté d'être John le Rouge dans The Mentalist. Bref, il ne faudra pas rater Agent Carter, pièce indispensable de l'Univers Cinématographique Marvel !