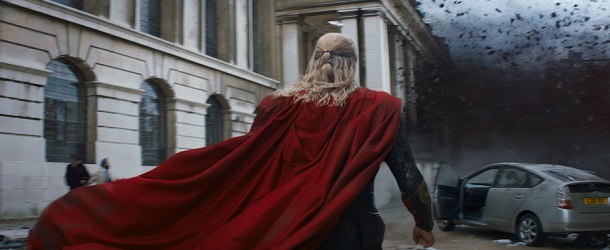 Le box office américain de Thor : Le Monde des ténèbres va être notre fil rouge du week-end… Le film d'Alan Taylor débarque aujourd'hui dans 3 841 cinémas outre-Atlantique. Fait surprenant, c'est un peu moins que Thor, qui bénéficiait d'une combinaison de 3 955 cinémas. Mais qu'importe, car ce qui compte, ce sont les chiffres sonnants et trébuchants ! Le deuxième blockbuster de la Phase 2 a ainsi récolté 7.1 millions de dollars lors de la séance dite de « minuit ».
Car il faut savoir que depuis la tuerie d'Aurora – dans une salle qui diffusait à minuit The Dark Knight Rises -, les habitudes des Américains ont changé. Ces avant-premières débutent maintenant plus tôt, vers 20 heures/22 heures, un peu comme en France. Bref, c'est un chiffre très solide, mais qui est donc difficile à comparer. C'est mieux que L'Incroyable Hulk (3.2 millions), Thor (3.8 millions), Captain America (4 millions) et Iron Man (5.3 millions) ; mais moins qu'Iron Man 2 (7.5 millions), Iron Man 3 (15.6 millions) et The Avengers (18.7 millions).
Le contexte est bien sûr différent. Car, et c'est une nouveauté, Thor : Le Monde des ténèbres est le premier blockbuster Marvel Studios qui ne sort pas en été ! Un vrai test… En 2011, Thor avait amassé 65.7 millions de dollars sur le week-end. Si tout se passe bien, la suite devrait finir beaucoup plus haut, avec 90 millions de dollars environ. A l'international, le film a déjà rapporté 152.8 millions de dollars. A suivre !
Thor : Le Monde des ténèbres d'Alan Taylor est sorti en France le 30 octobre 2013, avec Chris Hemsworth (Thor), Tom Hiddleston (Loki), Natalie Portman (Jane Foster), Christopher Eccleston (Malekith le Maudit), Jaimie Alexander (Sif), Idris Elba (Heimdall), Anthony Hopkins (Odin), Zachary Levi (Fandral) et Stellan Skarsgård (Dr. Erik Selvig).