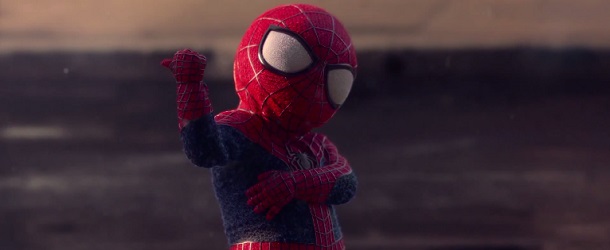 Et le prix de la meilleure publicité super-héroïque de l'année revient à… Evian ! Avec The Amazing Spider-Man 2 : Le Destin d'un Héros, la marque d'eau minérale navigue en plein milieu d'un formidable terrain de jeu. Plus fort que les bébés danseurs, voici le Spidey bébé danseur ! C'est drôle, bien trouvé, et la réalisation est techniquement parfaite. Pour les lecteurs de comics, le style de cette publicité rappellera forcément les dessins de Skottie Young. Un illustrateur connu pour ses représentations enfantines de super-héros Marvel.
Ce n'est un secret pour personne que le combat le plus rude de Spider-Man est celui qu'il mène contre lui-même en tentant de concilier la vie quotidienne de Peter Parker et les lourdes responsabilités de Spider-Man. Mais Peter Parker va se rendre compte qu'il fait face à un conflit de bien plus grande ampleur. Être Spider-Man, quoi de plus grisant ? Peter Parker trouve son bonheur entre sa vie de héros, bondissant d'un gratte-ciel à l'autre, et les doux moments passés aux côté de Gwen. Mais être Spider-Man a un prix : il est le seul à pouvoir protéger ses concitoyens new-yorkais des abominables méchants qui menacent la ville. Face à Electro, Peter devra affronter un ennemi nettement plus puissant que lui. Au retour de son vieil ami Harry Osborn, il se rend compte que tous ses ennemis ont un point commun : OsCorp.
The Amazing Spider-Man 2 est réalisé par Marc Webb sort en France le 30 avril 2014, avec Andrew Garfield (Peter Parker/Spider-Man), Emma Stone (Gwen Stacy), Jamie Foxx (Maxwell Dillon/Electro), Shailene Woodley (Mary Jane Watson), Dane DeHaan (Harry Osborn), Chris Cooper (Norman Osborn), Colm Feore (Donald Menken), Paul Giamatti (Aleksei Sytsevich/le Rhino) et Sally Field (May Parker).