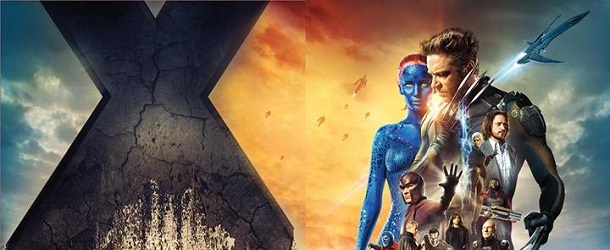 Les informations communiquées hier sur la X-Men X-Perience ont préparé le terrain… Le casting d'X-Men : Days of Future Past ne viendra pas en France. Mais tout n'est pas perdu (surtout si le fait de voir les acteurs pendant cinq minutes vous est égal). Le Grand Rex organisera une avant-première le lundi 12 mai à 20 heures 30. Nous pourrons donc découvrir le blockbuster mutant en même temps que les fans anglais (au même moment, le casting sera réuni à Londres pour l'avant-première européenne). Un marathon X-Men sera également organisé la veille pour les plus courageux !
Fans des X-MEN, préparez vous!
Afin de célébrer la sortie de X-MEN: DAYS OF THE FUTURE PAST, nous vous avons préparé deux évènements:
– MARATHON X-MEN le dimanche 11 Mai:
* En Grand Large Vost 2D
* Comprenant: X-MEN / X-MEN 2 / X-MEN: L'AFFRONTEMENT FINAL / X-MEN: LE COMMENCEMENT
– AVANT PREMIÈRE OFFICIELLE DE X-MEN: DAYS OF THE FUTURE PAST le lundi 12 Mai à 20h30
* En écran de scène Vost 3D
* Places orchestre ou balcon au choix (pour une fois que les invités sont en mezzanine et vous en orchestre, on peut célébrer ça!)
Des pass marathon + avant-première vont être mis en place vous donnant accès automatiquement à l'orchestre pour l'avant première à un prix préférentiel.
Comme certains le savent, les avants premières officielles se font le même jour dans plusieurs pays et continents différents et le cast ne passera pas, pour cet épisode, à Paris.
Mais de se réunir entre fans, 10 jours avant, pour voir le X-Men le plus attendu de tous…. je suis sur que vous saurez mettre l'ambiance!
Plus d'informations sur les tarifs à suivre.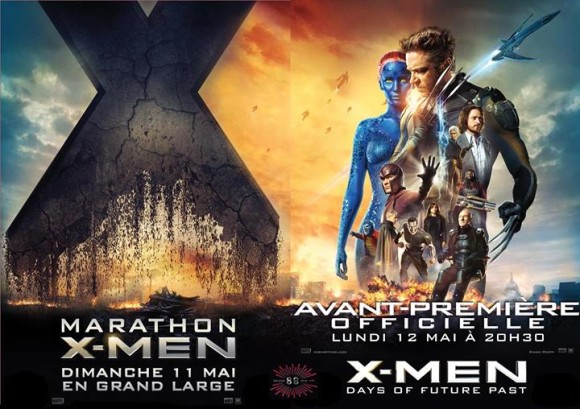 X-Men : Days of Future Past est réalisé par Bryan Singer et sortira en France le 21 mai 2014, avec James McAvoy (Charles Xavier/Professeur X), Michael Fassbender (Erik Lehnsherr/Magnéto), Hugh Jackman (Logan/Wolverine), Patrick Stewart (Charles Xavier/Professeur X), Ian McKellen (Erik Lehnsherr/Magnéto), Jennifer Lawrence (Raven Darkhölme/Mystique), Nicholas Hoult (Henry McCoy/le Fauve) et Omar Sy (Bishop).