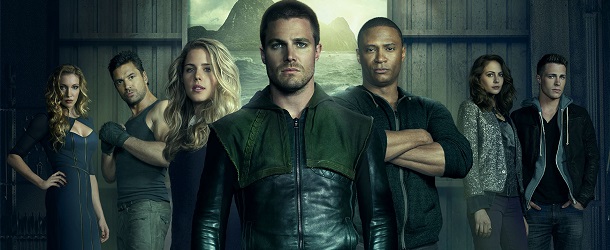 Après trois semaines de baisse consécutive, Oliver Queen relève enfin la tête ! Hier soir, l'épisode 'City of Blood' a été suivi par 2.31 millions de téléspectateurs (chiffre définitif). Il y a sept jours, la série avait touché son plus bas historique avec 'Seeing Red' (2.19 millions d'excités à capuche). Les dernières aventures de la Team Arrow signent donc la meilleure performance du show depuis un mois (l'épisode 'Deathstroke' et ses 2.32 millions de fans masqués, ohé, ohé).
Sur le front des 18-49 ans, nos héros réalisent un taux de 0.8% (en hausse de 0.1 point). Mais la vraie gagnante, c'est incontestablement Laurel Lance ! Car sans rien spoiler, vous semblez avoir particulièrement apprécié son rôle dans l'épisode d'hier (c'est assez rare pour être signalé… et c'est parfaitement justifié). Comme quoi, avec le bon scénario, les bons dialogues, tout est possible ! Rendez-vous la semaine prochaine pour l'avant-dernier épisode de la saison. PS : [Summer Glau] !
La série Arrow est diffusée chaque mercredi sur The CW, avec Stephen Amell (Oliver Queen), Katie Cassidy (Laurel Lance), David Ramsey (John Diggle), Emily Bett Rickards (Felicity Smoak), Willa Holland (Thea Queen), Colton Haynes (Roy Harper), Manu Bennett (Slade Wilson), Paul Blackthorne (Quentin Lance) et Susanna Thompson (Moira Queen).