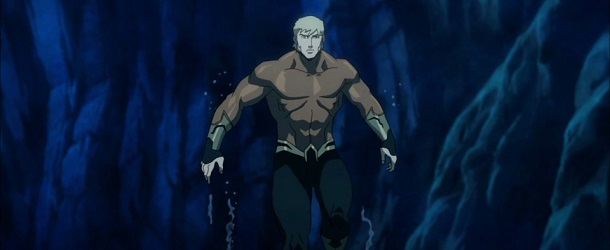 Et voici… la bande annonce de l'adaptation de Justice League : Le Trône d'Atlantide (via Newsarama) ! Remplacé par Shazam dans La Ligue des Justiciers : Guerre, Aquaman récupère enfin la place qu'il mérite dans Justice League : Throne of Atlantis. Ce long métrage animé, signé Ethan Spaulding (Le Fils de Batman, Batman : Assaut sur Arkham), sortira dans les bacs américains au printemps prochain. Civilisation perdue, combats sous-marin, requins géants… cela donne (encore plus) envie de voir un film Aquaman !
Quand Orm et Black Manta attaquent le monde de la surface après la bataille contre les forces d'Apokolips (La Ligue des Justiciers : Guerre), cela a des conséquences désastreuses pour Atlantis ; la reine de la civilisation sous-marine perdue décide alors de rechercher son autre fils, le demi-frère d'Orm, Arthur. Vivant à la surface avec des pouvoirs qu'il ne comprend pas, Arthur Curry embrasse le destin d'Aquaman, en faisant équipe avec la Justice League pour sauver et unir tous les peuples du monde.
Justice League : Throne of Atlantis sort aux États-Unis au printemps 2015 (DVD/Blu-ray), avec Matt Lanter (Arthur Curry/Aquaman), Jason O'Mara (Batman), Shemar Moore (Cyborg), Christopher Gorham (The Flash), Sean Astin (Shazam), Nathan Fillion (Green Lantern), Rosario Dawson (Wonder Woman), Jerry O'Connell (Superman), Sam Witwer (Orm) et Sumalee Montano (Mera).