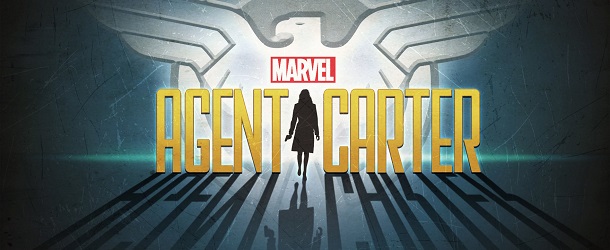 Quelques heures après le premier extrait, voici la date de lancement d'Agent Carter ! Le premier épisode de la mini-série sera diffusé le mardi 6 janvier 2015 sur ABC, au même horaire qu'Agents of S.H.I.E.L.D. (21 heures). Huit semaines, huit épisodes. Le Directeur Coulson sera donc de retour le mardi 3 mars 2015, après une pause de trois mois ! C'est loin, mais il y a tout de même un avantage. Contrairement à la saison 1, la seconde partie de la saison 2 pourra être diffusée d'une seule traite.
La vraie inconnue, c'est l'état dans lequel Agents of S.H.I.E.L.D. récupérera la case. Le buzz autour d'Agent Carter paraît inexistant, on peut donc légitimement s'interroger sur les futures audiences… Dans deux semaines, Peggy Carter sera de retour dans Agents of S.H.I.E.L.D. (l'épisode 8, 'The Things We Bury'). Se dirige-t-on vers une intrigue unique entre les deux séries ?
La série Agent Carter sera diffusée sur la chaîne ABC en 2015, avec Hayley Atwell (Agent Peggy Carter), Chad Michael Murray (Agent Jack Thompson), Enver Gjokaj (Agent Daniel Sousa), James D'Arcy (Edwin Jarvis), Shea Whigham (Roger Dooley), Kyle Bornheimer (Agent Ray Krzeminski) et Dominic Cooper (Howard Stark).