Après la sœur de Captain Cold et le frère de Cisco Ramon, je demande… le frère de Clyde Mardon (Chad Rock) ! Mais si, souvenez-vous, le super-vilain pas du tout charismatique atomisé par The Flash dans le premier épisode de la série. Liam McIntyre incarnera donc son frère, Mark Mardon, alias Weather Wizard. En bon français, on dit Évelyne Dhéliat (ou Météo Mage).
Sans surprise, Mark va vouloir faire la paix, venger Clyde. Ce sera dans l'épisode 15 et 16. Star de Spartacus, McIntyre rejoint quatre anciens camarades : Manu Bennet (Slade Wilson/Deathstroke), Cynthia Addai-Robinson (Amanda Waller), Katrina Law (Nyssa al Ghul) et Nick Tarabay (Captain Boomerang). Si on enlève les acteurs de cette série et de Prison Break, la population de Central City/Starling City frôle le zéro !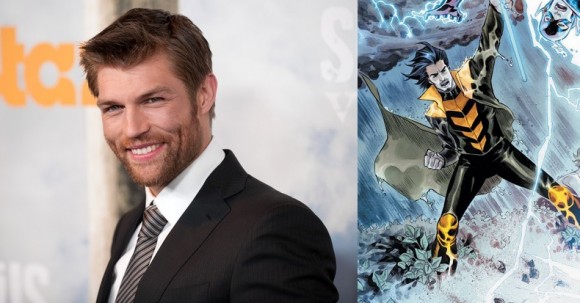 —————————————
The Flash – Saison 1 – Episode 10 – 'Revenge of the Rogues' : Leonard Snart, alias Captain Cold, est de retour à Central City avec un nouvel allié au sang chaud – Mick Rory, alias Heat Wave. Le duo prévoit de voler un tableau estimé à plusieurs millions de dollars, mais Cold a également ses propres plans lors de son passage en ville – tendre un piège à The Flash. Snart et Mick enlèvent un proche de The Flash et menacent de le tuer, à moins que ce dernier se présente pour une bataille de feu et de glace. Barry dit à Joe qu'il ne sait pas comment s'y prendre avec Snart, le dernier affrontement ayant fait plusieurs victimes. Pendant ce temps, Barry demande au Dr Wells, à Caitlin et à Cisco de l'aider à s'entraîner, afin d'être prêt pour affronter Reverse Flash. Iris gère les conséquences de la confession de Barry et Cisco propose au CCPD de nouvelles protections.
La série The Flash est diffusée chaque mardi sur la chaîne The CW, avec Grant Gustin (Barry Allen/The Flash), Candice Patton (Iris West), Rick Gosnett (Eddie Thawne), Danielle Panabaker (Caitlin Snow), Carlos Valdes (Cisco Ramon), Tom Cavanagh (Harrison Wells) et Jesse L. Martin (Inspecteur West).