The Art of Evolution, semaine 10 (via Entertainment Weekly) ! Sur le poster du prochain épisode, Jiaying (Dichen Lachman) dévoile ses 'Scars'. Nous allons enfin comprendre comment la mère de Skye a survécu à Daniel Whitehall. Car entre nous, la phrase « Mon mari a recollé mes morceaux. » mérite de plus amples explications ! Ce poster est signé Marguerite Sauvage (All-New Thor). Mais avant, place aux chiffres de Marvel : Les Agents du S.H.I.E.L.D. sur W9 :
974 000 pour 'Lorelei', 3.8% (vs. 1.14 million, 4.5%) ;
967 000 pour 'Haute trahison', 3.9% (vs. 1.23 million, 5%) ;
502 000, 349 000, 206 000 et 127 000 pour les rediffusions, 3.2%, 4.0%, 4.0% et 4.1% (vs. jusqu'à 789 000, jusqu'à 5.3%).
La série perd du terrain cette semaine (200 000 fans en moins sur les inédits). La faute sans doute à France 4, qui a cartonné avec Le Cinquième Élément (1 504 000 téléspectateurs). W9 se retrouve en deuxième position des audiences TNT.
—————————————————-
Agents of S.H.I.E.L.D. – Saison 2 – Episode 20 – 'Scars' : Skye est partagée entre sa loyauté pour le S.H.I.E.L.D. et son lien avec les Inhumains, alors que les tensions montent entre les deux groupes – et Coulson révèle un secret qu'il a caché, même à ceux qui étaient le plus proche de lui.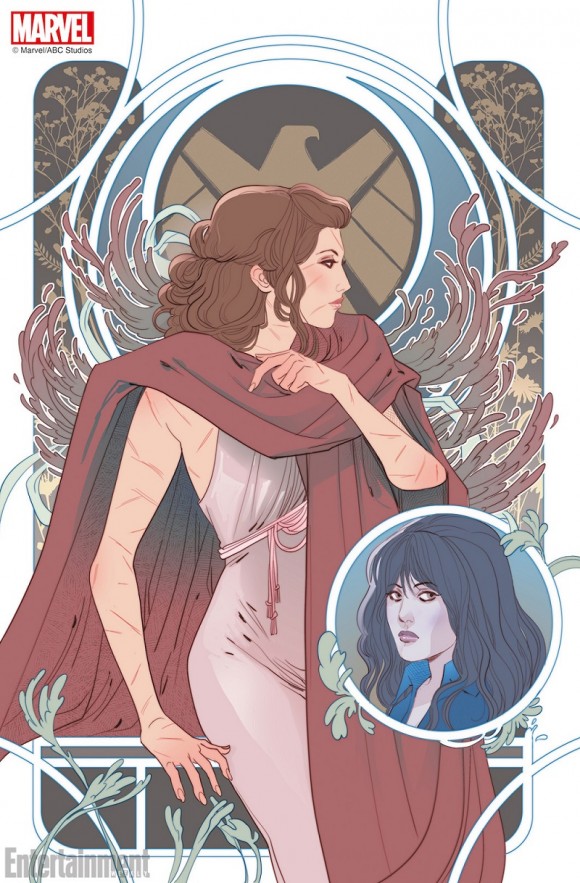 La série Agents of S.H.I.E.L.D. est diffusée chaque mardi sur ABC (et le mercredi sur W9), avec Clark Gregg (Directeur Phil Coulson), Ming-Na Wen (Agent Melinda May), Brett Dalton (Grant Ward), Chloe Bennet (Agent Skye), Iain De Caestecker (Agent Leo Fitz), Elizabeth Henstridge (Agent Jemma Simmons), Nick Blood (Lance Hunter) et Adrianne Palicki (Bobbi Morse).