Et voici… le premier poster de la saison 2 de The Flash ! C'est une recréation de la couverture de The Flash #123 (septembre 1961). Dans cette histoire incontournable intitulée 'Flash of Two Worlds', Barry Allen accéde pour la première fois à la Terre-2, une réalité parallèle protégée par un autre bolide écarlate, Jay Garrick. C'est précisément ce qui va se passer dans la série. Pour ceux qui auraient raté l'information, c'est Teddy Sears qui incarnera le Flash des origines. Son costume est d'une fidélité deadpoolesque !
Frappé par la foudre lors de l'explosion d'un accélérateur de particules, Barry Allen se réveille après neuf mois de coma. Il découvre que sa vie a changé – l'accident lui a donné le pouvoir de super-vitesse, lui accordant la possibilité de se déplacer à travers Central City tel un ange gardien invisible. Bien qu'initialement excité par ses nouveaux pouvoirs, Barry est choqué de découvrir qu'il n'est pas le seul 'méta-humain' créé à la suite de l'explosion de l'accélérateur – et que tout le monde n'utilise pas ses nouvelles capacités pour faire le bien…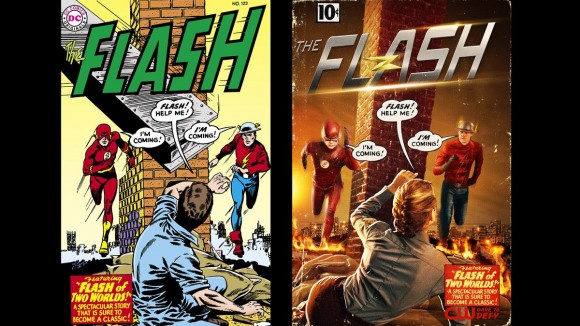 La série The Flash revient le 6 octobre sur la chaîne The CW, avec Grant Gustin (Barry Allen/The Flash), Candice Patton (Iris West), Rick Cosnett (Eddie Thawne), Danielle Panabaker (Caitlin Snow), Carlos Valdes (Cisco Ramon), Tom Cavanagh (Harrison Wells) et Jesse L. Martin (Inspecteur West).