Speedy (Willa Holland), Arrow (Stephen Amell), Black Canary (Katie Cassidy), The Flash (Grant Gustin), John Diggle (David Ramsey), Hawkgirl (Ciara Renée) et Hawkman (Falk Hentschel)… Voici la première image du crossover Arrow/The Flash, qui servira de prologue à la cinquième série de l'Univers Télévisuel DC Comics, Legends of Tomorrow ! Une intrigue, deux épisodes. Le 1er décembre, The Flash piquera un sprint à Star City. Et le lendemain, dans 'Legends of Yesterday', Arrow décochera ses flèches à Central City…
Quand les héros seuls ne suffisent pas… le monde a besoin de légendes. Après avoir vu le futur, celui qu'il va désespérément tenter d'empêcher, le voyageur temporel Rip Hunter est chargé d'assembler un groupe disparate de héros et de vilains pour affronter une menace inarrêtable – une menace qui met en danger non seulement la planète, mais aussi le temps lui-même. Cette équipe hétéroclite pourra-t-elle vaincre un ennemi immortel qui ne ressemble à rien de ce qu'ils connaissent ?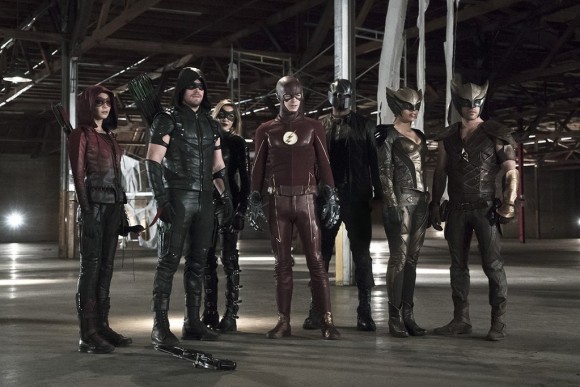 La série Legends of Tomorrow sera diffusée début 2016 sur la chaîne The CW, avec Brandon Routh (Ray Palmer/The Atom), Wentworth Miller (Leonard Snart/Captain Cold), Victor Garber (Martin Stein/Firestorm), Caity Lotz (Sara Lance/White Canary), Dominic Purcell (Mick Rory/Heat Wave), Ciara Renée (Kendra Saunders/Hawkgirl) et Arthur Darvill (Rip Hunter).