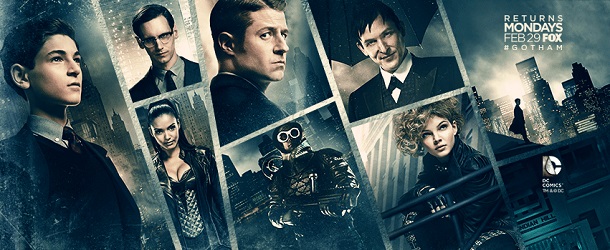 Alerte calendrier ! Pour la première fois cette saison, Gotham s'offre une petite pause. La série sera donc absente des écrans la semaine prochaine (même chose pour Supergirl). Cela nous laissera du temps pour digérer le season finale de The Walking Dead ! Gordon est donc en prison, dans un sacré sac de nœuds… Et Oswald Cobblepot est tombé sur une famille aussi timbrée que lui ! Selon vous, ces nouveaux personnages ont-il du potentiel ? Qu'avez-vous pensé de cet épisode ? A vos claviers !
Gotham – Saison 2 – Episode 16 – 'Prisoners' : Après sa garde à vue, Gordon fait face à de nouvelles menaces et de nouveaux dangers en prison. Pour survivre, il doit compter sur un nouvel ami, tandis que Bullock et d'autres cherchent de l'aide à l'extérieur. Pendant ce temps, le Pingouin se rapproche de son père, alors que sa belle-mère et ses beau-frères et sœurs élaborent leurs propres plans pour la famille.
————————————————–
Audience US : L'Inspecteur Gordon face aux pouvoirs conjugués de Supergirl et The Flash… Hier soir, l'épisode 'Prisoners' a rassemblé 3.82 millions de téléspectateurs (contre 3.89 millions la semaine dernière). C'est donc la plus mauvaise audience de la saison. Sur la cible préférée des annonceurs, les 18-49 ans, le show termine la soirée avec un taux de 1.3% (inchangé) [chiffres définitifs].
————————————————–
Gotham – Saison 2 – Episode 17 – 'Into the Woods' : Afin de laver son nom, Gordon vole son dossier et demande de l'aide à Nygma. Pendant ce temps, le Pingouin découvre le rôle de sa belle-famille dans la mort de son père et sort de son conditionnement.
La série Gotham est diffusée chaque lundi sur la chaîne FOX (et actuellement sur TMC), avec Ben McKenzie (Inspecteur James Gordon), Donal Logue (Harvey Bullock), Michael Chiklis (Capitaine Nathaniel Barnes), Sean Pertwee (Alfred Pennyworth), Robin Lord Taylor (Oswald Cobblepot/le Pingouin), Erin Richards (Barbara Kean), David Mazouz (Bruce Wayne) et Camren Bicondova (Selina Kyle/Catwoman).