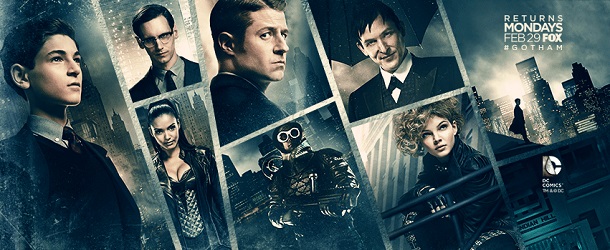 Le saviez-vous ? Avant la pause, James Gordon était enfermé dans… la même prison que #Spoiler Daredevil Saison 2# [le Caïd et le Punisher] ! La preuve en image. Il y a vraiment des fans qui ont l'œil ! Présentement, Gordon fait donc tout pour laver son nom. Et le Pingouin retrouve la mémoire. J'espère qu'il ne va pas tuer la charmante Sasha Van Dahl, interprétée par Kaley Ronayne… Qu'avez-vous pensé de cet épisode ? De l'évolution d'Edward Nygma ? A vos claviers !
Gotham – Saison 2 – Episode 17 – 'Into the Woods' : Afin de laver son nom, Gordon vole son dossier et demande de l'aide à Nygma. Pendant ce temps, le Pingouin découvre le rôle de sa belle-famille dans la mort de son père et sort de son conditionnement.
————————————————–
Audience US : L'Inspecteur Gordon n'est pas le seul à toucher le fond… Hier soir, l'épisode 'Into the Woods' a été suivi par 3.71 millions de téléspectateurs (contre 3.82 millions avant la pause). C'est la plus mauvaise audience historique du show. Sur la cible des 18-49 ans, Gotham réalise aussi un nouveau record, avec un taux de 1.2% (en baisse de 0.1 point) [chiffres définitifs].
————————————————–
Gotham – Saison 2 – Episode 18 – 'Pinewood' : Après avoir quitté l'Asile d'Arkham, Barbara tente de faire amende honorable avec Gordon. Cependant, Bruce et Alfred pistent un ancien ami de Thomas Wayne du Projet Chimera, mais Hugo Strange perturbe leurs plans.
La série Gotham est diffusée chaque lundi sur la chaîne FOX (et actuellement sur TMC), avec Ben McKenzie (Inspecteur James Gordon), Donal Logue (Harvey Bullock), Michael Chiklis (Capitaine Nathaniel Barnes), Sean Pertwee (Alfred Pennyworth), Robin Lord Taylor (Oswald Cobblepot/le Pingouin), Erin Richards (Barbara Kean), David Mazouz (Bruce Wayne) et Camren Bicondova (Selina Kyle/Catwoman).