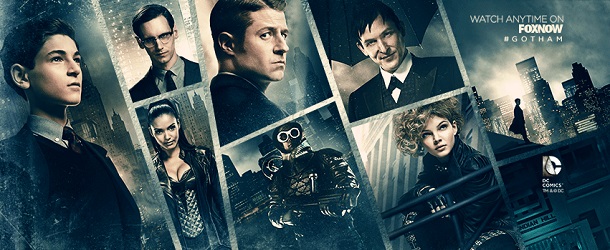 Tandis que la nouvelle Poison Ivy affole le net, Gotham prépare sa rentrée en faisant promotion commune avec Lucifer (les deux séries sont diffusées à la suite, sur la même chaîne) ! Voici donc une nouvelle bande annonce, dévoilée lors d'un événement destiné aux journalistes. On a notamment appris que l'introduction de Killer Croc et Harley Quinn était à l'étude. Un jour. Et sous une proto-forme, à la manière du Joker…
L'origin story se poursuit dans la saison 3 de Gotham, et les enjeux sont plus élevés que jamais, quand des super-vilains plus ambitieux et dépravés sont introduits, et quand un réalignement des alliances secoue la lutte pour le pouvoir à Gotham City.

La saison lèvera le voile sur la fameuse organisation criminelle connue sous le nom de Cour des Hiboux. Avec les évadés d'Indian Hill dans la nature, Jim Gordon doit prendre les choses en main en tant que chasseur de primes. Sa mission est de trouver Hugo Strange, le cerveau derrière les horribles expériences d'Indian Hill, et Fish Mooney, l'un des sujets de Strange. Pendant ce temps, l'Inspecteur Harvey Bullock du GCPD et le Capitaine Nathaniel Barnes restent à l'avant-garde du combat contre le crime dans une ville en proie aux monstres. Aussi, Bruce Wayne, avec l'aide son majordome de confiance et mentor, Alfred Pennyworth, et l'ancien employé de Wayne Enterprises, Lucius Fox, découvre qu'il y a de nouveaux secrets à découvrir concernant le meurtre de ses parents.

Tandis que la ville sombre dans le chaos, Gotham continuera de suivre l'évolution des méchants les plus maléfiques de la ville, le Pingouin ; Edward Nygmal/le futur Riddler ; Selina Kyle/la future Catwoman ; Barbara Kean, Tabitha Galavan/Tigress et Butch Gilzean.

La série présentera aussi la future Poison Ivy, qui, après une rencontre avec un monstre d'Indian Hill, renaît en jeune femme qui exploite toute la puissance de ses charmes ; et explorera les origines de Jervis Tetch/Mad Hatter, un talentueux hypnotiseur au bord de la folie ; et les Tweed Brothers.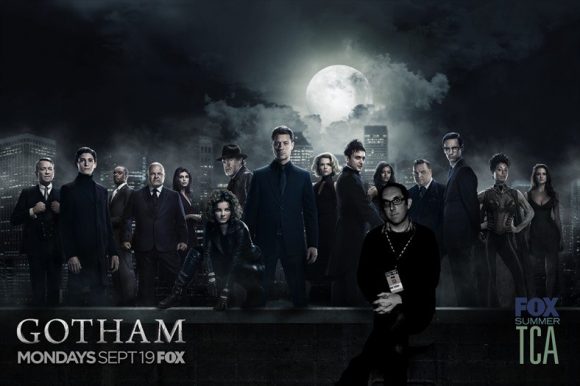 Mondays will never be the same again. Watch new episodes of #Gotham and #Lucifer on September 19 on @FOXTV. #TCA16 pic.twitter.com/d9MGJMEJOw

— Gotham (@Gotham) 9 août 2016
La série Gotham revient le lundi 19 septembre 2016 sur la chaîne FOX, avec Ben McKenzie (Inspecteur James Gordon), Donal Logue (Harvey Bullock), Michael Chiklis (Capitaine Nathaniel Barnes), Sean Pertwee (Alfred Pennyworth), Robin Lord Taylor (Oswald Cobblepot/le Pingouin), Erin Richards (Barbara Kean), David Mazouz (Bruce Wayne) et Camren Bicondova (Selina Kyle/Catwoman).