Une super-héroïne de plus pour Legends of Tomorrow (via IGN) ! Sarah Grey – vue dans Si je reste et bientôt à l'affiche de Power Rangers (je vous épargne la recherche : elle ne fait pas partie de la super-équipe) – vient d'être choisie pour incarner Courtney Whitmore, alias Stargirl ! Elle rejoint ainsi Patrick J. Adams (Hourman), Maisie Richardson-Sellers (Vixen) et Matthew MacCaull (Commander Steel), les trois premiers membres annoncés de la Justice Society of America. Dans les comics, Stargirl utilise une lance cosmique qui lui permet de voler, projeter de l'énergie, etc…
Quand les héros seuls ne suffisent pas, le monde a besoin de légendes. Le voyageur temporel Rip Hunter a assemblé un groupe disparate de héros et de vilains, dont Firestorm, Atom, White Canary, Hawkgirl, Captain Cold et Heatwave, pour faire face à une menace inarrêtable. Après avoir sauvé le monde, les Legends of Tomorrow sont maintenant chargées de protéger le passé, le présent et le futur lui-même. Cette responsabilité va les emmener à travers l'histoire et il leur faudra faire face à une menace qui ne ressemble à rien de ce que l'humanité a connu.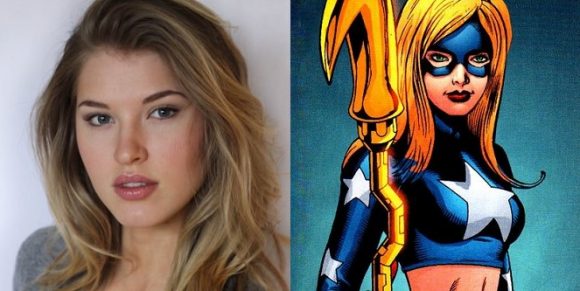 La série Legends of Tomorrow revient le jeudi 13 octobre 2016 sur la chaîne The CW, avec Brandon Routh (Ray Palmer/The Atom), Caity Lotz (Sara Lance/White Canary), Wentworth Miller (Leonard Snart/Captain Cold), Dominic Purcell (Mick Rory/Heat Wave), Franz Drameh (Jefferson 'Jax' Jackson/Firestorm), Victor Garber (Professeur Martin Stein) et Arthur Darvill (Rip Hunter).