Alerte calendrier ! Essoufflé après avoir fait la course avec Kid Flash, The Flash fera une pause la semaine prochaine. La série sera donc de retour le 21 février… avec 'Attack on Gorilla City', premier épisode d'une duologie simiesque épique ! En attendant, pensez-vous que Kid Flash a ses chances face à Savitar ? Qu'avez-vous pensé de cet épisode ? En bonus, comme pour Supergirl, vous trouverez une petite animation LEGO Batman : Le film. A ce propos, une nouvelle vidéo crossover LEGO Batman/DCTVU est disponible ICI !
The Flash – Saison 3 – Episode 12 – 'Untouchable' : Barry et l'équipe de S.T.A.R. Labs travaillent ensemble pour attraper Clive Yorkin, un méta-humain criminel qui tue méthodiquement des gens en causant une décomposition accélérée. Joe devient sa prochaine cible mais c'est Iris qui est prise dans le feu croisé. The Flash prend sous son aile Kid Flash et commence à élever la formation du nouveau speedster à un autre niveau.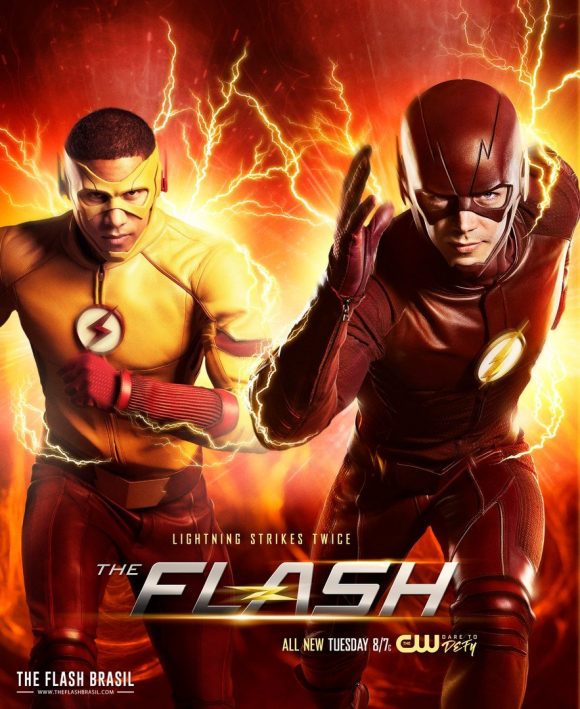 ————————————————–
Audience US : The Flash toujours dans la moyenne… Hier soir, l'épisode 'Untouchable' a rassemblé 2.91 millions de téléspectateurs (contre 3.06 millions la semaine dernière). Sur la cible des 18-49 ans, Barry Allen termine la soirée avec un taux de 1.1% (inchangé) [chiffres définitifs].
————————————————–
The Flash – Saison 3 – Episode 13 – 'Attack on Gorilla City' : Quand Jesse Quick informe l'équipe que son père a été enlevé, Barry, Caitlin, Cisco et Julian se rendent sur la Terre-2 pour sauver Harry de Gorilla City. En s'enfonçant dans la forêt, Barry et l'équipe sont immédiatement capturés et amenés devant Grodd. Grodd a besoin d'eux pour stopper Solovar, le chef de Gorilla City, qui veut envahir la Terre-1. Pendant ce temps, sur la Terre-1, Jesse et Kid Flash patrouillent pour arrêter un méta-humain capable de contrôler la gravité, avec H.R. et Joe servant de guides depuis S.T.A.R. Labs.
La série The Flash est diffusée chaque mardi sur la chaîne The CW, avec Grant Gustin (Barry Allen/The Flash), Candice Patton (Iris West), Carlos Valdes (Cisco Ramon), Danielle Panabaker (Caitlin Snow), Jesse L. Martin (Inspecteur Joe West), Keiynan Lonsdale (Wally West/Kid Flash) et Tom Cavanagh (Harrison Wells).