Powerless is back ! Déprogrammée à deux reprises au profit de rediffusions de Trial & Error, la sitcom DC Comics est enfin de retour avec l'épisode… 'I'ma Friend You'. Comme prévu initialement. Quand il s'agit de mener un interrogatoire, Van Wayne est-il encore plus persuasif que Prometheus ? Crimson Fox reviendra-t-elle un jour à Charm City ? Qui préfériez-vous avoir comme collègue de bureau, Emily ou Jackie ? Qu'avez-vous pensé de cet épisode ? A vos claviers !
Powerless – Saison 1 – Episode 6 – 'I'ma Friend You' : Quand Emily apprend que Jackie a besoin d'argent, elle ne peut pas l'aider mais fait tout son possible pour trouver une solution.
https://www.youtube.com/watch?v=_TpLpE223zo
https://www.youtube.com/watch?v=n2GV_oIJwdY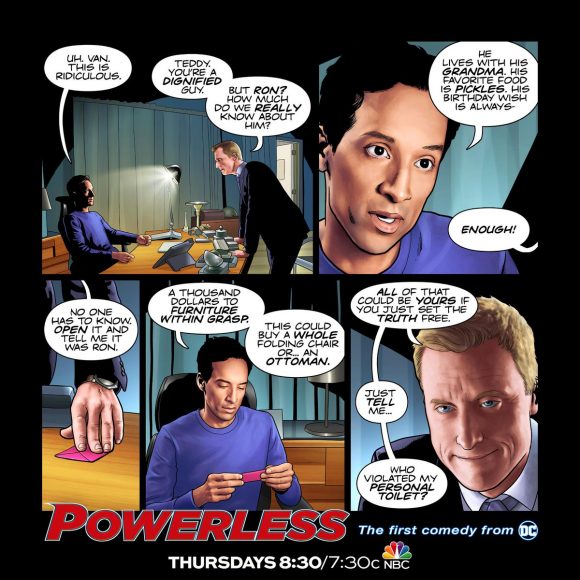 ————————————————–
Audience US : Pause fatale ! Hier soir, l'épisode 'I'ma Friend You' a été suivi par 1.81 million de téléspectateurs (contre 2.38 millions il y a trois semaines). C'est bien évidemment la plus mauvaise audience de la série. Sur la cible des 18-49 ans, les employés de Wayne Security frisent le licenciement avec un taux de 0.5% (en baisse de 0.2 point) [chiffres définitifs].
————————————————–
Powerless – Saison 1 – Episode 7 – 'Van of the Year' : Emily découvre que Van lui vole le crédit de sa générosité au bureau. Pendant ce temps, Teddy pousse Ron à développer sa nouvelle invention pour le grand public.
Pas de teaser pour l'instant. 🙁
La série Powerless est diffusée chaque jeudi sur la chaîne NBC, avec Vanessa Hudgens (Emily Locke), Danny Pudi (Teddy), Christina Kirk (Jackie), Ron Funches (Ron), Alan Tudyk (Van Wayne), Jennie Pierson (Wendy) et Atlin Mitchell (Crimson Fox).