Quand le chef costumier de Gotham se lâche, cela donne… l'Exécuteur ! Il n'y a pas à dire, Michael Chiklis (Les 4 Fantastiques) s'épanouit à merveille dans le rôle de ce super-vilain. Dans les comics, Willy Hooker, alias The Executioner, faisait s'évader des criminels pour mieux les tuer et récupérer la prime placée sur leur tête. Il a vite été arrêté par Batman et Robin. C'était en 1953. Pour conclure, souhaitons un joyeux anniversaire à Camren Bicondova (Selina Kyle). Elle vient de fêter ses 18 ans !
Gotham – Saison 3 – Episode 19 – 'All Will Be Judged' : Le Chaman du Temple révèle son jeu à Bruce Wayne et prépare la prochaine phase de son l'entraînement. Gordon et Bullock sont en danger lorsqu'ils tombent sur une chouette de cristal qui leur révèle les secrets les plus convoités du monde souterrain de Gotham. Pendant ce temps, Nygma et le Pingouin sont forcés de travailler ensemble pour se sortir d'une situation délicate.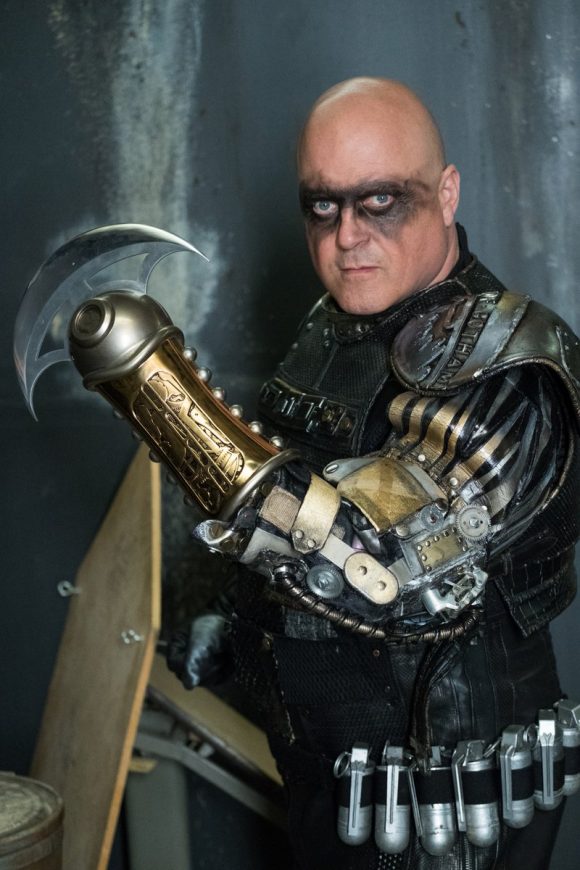 ————————————————–
Audience US : Et Gotham de s'installer sous la barre des 3 millions… Hier soir, l'épisode 'All Will Be Judged' a été suivi par 2.92 millions de téléspectateurs (contre 2.98 millions la semaine dernière). C'est la plus mauvaise audience du show. Sur la cible des 18-49 ans, l'Exécuteur surprend tout de même avec un taux de 1% (en hausse de 0.1 point) [chiffres définitifs].
————————————————–
Gotham – Saison 3 – Episode 20 – 'Pretty Hate Machine' : Gordon est engagé dans une course contre la montre pour sauver la ville du virus Alice Tetch, quand Lee Thompkins l'intercepte avec un plan de son cru. De plus, Alfred observe un grand changement chez Bruce Wayne après son entraînement avec le Chaman. Pendant ce temps, certains des vilains les plus dérangés de Gotham font équipe.
La série Gotham est diffusée chaque lundi sur la chaîne FOX, avec Ben McKenzie (Inspecteur James Gordon), Donal Logue (Harvey Bullock), Michael Chiklis (Capitaine Nathaniel Barnes), Sean Pertwee (Alfred Pennyworth), Robin Lord Taylor (Oswald Cobblepot/le Pingouin), Erin Richards (Barbara Kean), David Mazouz (Bruce Wayne) et Camren Bicondova (Selina Kyle/Catwoman).